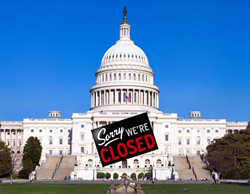 Orlando, FL (PRWEB) October 15, 2013
Currently to date, there are more than 29,000 active federal opportunities on FedBizOpps (FBO). This means that even with the harsh effects of the government shutdown, contractors still have plenty of opportunities to win government contracts in the federal marketplace. However, despite all of the continuous problems involving the government shutdown, agencies have still managed to put out solicitations and available contracts. On October 15th, 2013, approximately 104 new government contracts made their way to the bid floor on FedBizOpps. In fact in the past 14 days, 6,178 contracts have become readily available for bidding on FedBizOpps. This is clear proof showing the government shutdown has a limited effect on government buying. These contracts can only be bid on if your business is properly registered in System for Award Management (SAM) and approved by the federal government to start bidding.
Every business that wishes to contract with the federal government must register in System for Award Management (SAM). However, especially since changes were implemented after the migration from Central Contractor Registration (CCR), many businesses make mistakes or omissions in their registration. Even something as simple as leaving out a Point of Contact or clicking the wrong set-aside group can cost a company lucrative contract awards they may have otherwise been qualified for. For this reason, it is important that companies routinely review their SAM registration and educate themselves on how to properly register.
Marketing is another valuable tool for contractors, especially small businesses that may be new to federal contracting. Both the Small Business Administration and the VETBIZ Resource Center advise small businesses to "aggressively market" their company's products and services to the federal agencies who buy from their industries.GovernmentContractingTips.com's "First Steps to Government Contracting" guide recommends that small businesses draft and distribute a capabilities statement, register their business in the Dynamic Small Business Search, launch a branded government-formatted website, and network with both contracting officers and other vendors to find prime and subcontracting opportunities.
US Federal Contractor Registration is currently helping businesses gain an edge in the federal market despite the government shutdown. The toll-free Contractor Helpline, available at (877) 252-2700 ext 1, is open and available to provide a free evaluation and review of contractors' registration and government marketing plan. During the evaluation, Placement Specialists will review the vendor's SAM registration to identify any errors or missing information, as well as give recommendations to help the vendor better market their product and services to purchasing officers.
US Federal Contractor Registration is a third party registration firm that has helped thousands of businesses complete their registration and bid on contracts. US Federal Contractor Registration pairs businesses with a dedicated case manager who helps them every step of the way, from initial registration to bidding on contracts. To request a free evaluation and assessment by a Placement Specialist for your business, call the Contractor Helpline at (877) 252-2700 Ext 1.