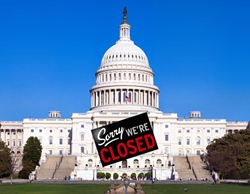 Orlando, FL (PRWEB) October 17, 2013
Early this morning Thursday, October 17th, 2013, President Barack Obama signed into effect a bill that will reopen the federal government and lift the debt limit. This will allow more than 800,000 federal employees to return to work and all furloughed contractors back to their projects. After 16 days of the government shutdown many contractors are ready to get back to receiving their much needed funds from their awards.
While the government shutdown was in full effect, federal agencies did not slow down on buying goods and services from contractors for a single second. In fact, according to FedBizOpps in the past 14 days 6,019 federal awards have been made readily available for registered government contractor to bid on. Even on the very last day of the shutdown 142 brand new solicitations were posted to FedBizOpps. Any business that wishes to start bidding on and winning contracts must register in System for Award Management (SAM) in order to be eligible. Unfortunately, SAM registration to most contractors is no walk in the park. It can take days or even weeks to complete the registration if a vendor is unfamiliar with the process.
Thankfully, there are several resources available for businesses that need help with the registration process. Third party registration firms, like US Federal Contractor Registration, have helped thousands of companies cut through the red tape and start bidding. Much like businesses hire accountants to perform their taxes, businesses are hiring third party registration firms to conduct their government registration paperwork. Their dedicated case managers help businesses register in SAM quickly and correctly. Their expertise with federal regulations also allows them to identify and fix any problems in existing registrations.
To help small businesses avoid costly errors, US Federal Contractor Registration is offering an evaluation and review of a vendor's government registration. During the evaluation, a Placement Specialist will review the company's government contractor registration to ensure it is complete, contains the correct information, and is optimized to help them win government contracts. Placement Specialists can also prepare a government contracting profitability assessment to help business owners review government spending trends within their industry and identify current contracting opportunities.
US Federal Contractor Registration is a third party registration firm that has helped thousands of businesses complete their registration and bid on contracts. US Federal Contractor Registration pairs businesses with a dedicated case manager who helps them every step of the way, from initial registration to bidding on contracts. To request a free evaluation and assessment by a Placement Specialist for your business, call the Contractor Helpline at (877) 252-2700 Ext 1.