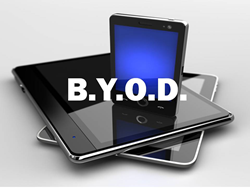 Orlando, FL (PRWEB) November 06, 2013
After a year of trial, government agencies like the U.S. Equal Employment Opportunity Commission and the MSPB are allowing their federal employees to use their own personal smartphones and tablets for day-to-day operations. Contracting officers spend an enormous amount of time tracking down potential government contractors to fill their solicitations. Thanks to bring-your-own-device (BYOD) programs federal employees are not only encouraged to use their own devices but will be paid to do so. In fact, employees that turn in their government issued devices will receive a $25 monthly reimbursement. Tommy Hwang, CIO of the Merit Systems Protection Board has reported that 15% of government employees have turned in their devices to be a part of the BYOD program. Hwang stated that for every 20 employees that turn in their government issued device, this agency will save around $10,000 a year. Many other government agencies have started to adapt the BYOD program in a way to save overall costs. Another advantage of federal employees using their own devices is that government contractors with mobile ready websites will be easily reached and viewed. The BYOD program not only helps the federal government save money but it also increases the capabilities of government contractors to connect with procurement officers.
In an effort to modernize government marketing, GovKinex has developed a government-formatted website template designed to help businesses reach procurement officers. What makes the design of the government-formatted template so innovative is that it was constructed to be authorized by government firewalls and security measures. US Federal Contractor Registration's website development operation GovKinex has developed a government-formatted website package that works hand in hand with President Obama's goals. Best of all, every GovKinex website is mobile ready for iPhone and Android compatibility. This makes it possible for government contractors to reach procurement officers on every available operating system, no matter what device contracting officers use to access the internet. These websites also allow businesses to market themselves directly to federal buyers. This service is a must have in today's federal marketplace.
Business owners may acquire one of these new government-formatted websites by calling the Contractor Helpline at (877) 252-2700 ext 1. Their Placement Specialist can then further explain the benefits of owning a government-formatted website. A Placement Specialist will also help the contractor find current contracting opportunities, purchasing trends for federal agencies, and review their System for Award Management registration for errors that could impact their ability to win government contracts.
US Federal Contractor Registration is a third party registration firm with corporate offices in Orlando, FL that has helped thousands of businesses complete their SAM registration and bid on contracts. US Federal Contractor Registration pairs businesses with a dedicated case manager who helps them every step of the way, from initial registration to bidding on contracts. US Federal Contractor Registration's BBB rating is A- thanks to the quality of their service and responsiveness to customers. To request an evaluation and assessment by a Placement Specialist for your business, call the Contractor Helpline at (877) 252-2700 ext 1 or visit our website at https://www.uscontractorregistration.com/.