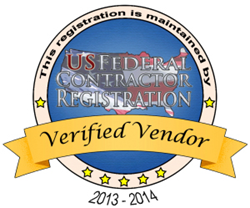 Orlando, Fl (PRWEB) November 07, 2013
US Federal Contractor Registration is urging businesses to get registered now for contracts being put out for bid in the coming months. FedBizOpps, the federal government's official gateway for federal procurement opportunities over $25,000, is currently reporting 227 contracts available in the state of Colorado. Only businesses properly registered in System for Award Management (SAM) can bid on these or any other federal contracts. According to USASpending.gov, the federal government has spent over $00 billion on contracts in 2013. With all the available bidding opportunities, US Federal Contractor Registration suggests businesses become registered properly in order to bid on these awards.
In order to bid on and work government contracts, businesses must obtain a DUNS number and must complete their System for Award Management (SAM) registration. Successful contractors also develop aggressive government marketing plans, which include the creation of a profile on government websites such as the SBA's Dynamic Small Business Search and automated bid notifications to their email from FBO.gov. Eric Knellinger, President of US Federal Contractor Registration, is strongly encouraging small businesses to ensure their registration is complete and correct so they don't miss out on the new opportunities available in government contracting. Information on how to win federal government contracts can be requested through the Contractor Helpline at (877) 252-2700 ext 1.
US Federal Contractor Registration is a third party registration firm that has helped thousands of businesses complete their registration and bid on contracts. US Federal Contractor Registration pairs businesses with a dedicated case manager who helps them every step of the way, from initial registration to bidding on contracts.