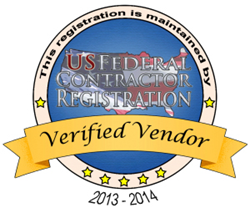 Orlando, FL (PRWEB) November 14, 2013
US Federal Contractor Registration is urging businesses in New Mexico to get registered today to bid on one of the 151 available contracts currently listed on the FedBizOpps website. Although the 2014 fiscal year has begun with a sluggish start, thanks to the recent government shutdown, there are still ample opportunities for properly registered businesses to enter the federal market.
Thankfully, there are several resources available for businesses that need help with the registration process. Third party registration firms, like US Federal Contractor Registration, have helped thousands of companies cut through the red tape and start bidding. Their dedicated case managers help businesses register in SAM quickly and correctly. Their expertise with federal regulations also allows them to identify and fix any problems in existing registrations.
For a limited time, US Federal Contractor Registration is offering a free evaluation and review of vendors' SAM registration. The evaluation includes a complete audit of the vendor's registration, checking for missing or incorrect information. A Placement Specialist will also analyze whether the registration is fully optimized to help them win government contracts. To request the evaluation, businesses may call the Contractor Helpline at (877) 252-2700 ext 1. During the evaluation, Placement Specialists can also develop a government contracting profitability assessment for the vendor. This report is designed to help contractors identify current contracting trends and future opportunities within their industry.