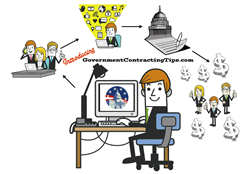 Orlando, Fl (PRWEB) December 23, 2013
GovernmentContractingTips.com now allows businesses interested in becoming government contractors to download informational packets from their website at no cost. GovernmentContractingTips.com has been assisting registered small business contractors with all of their questions regarding government contracting. Before a business can start bidding on available contracts they must be registered in System for Award Management (SAM). Most businesses find the SAM registration very difficult and tedious. It can take days or even weeks to fill out the registration if a business is not familiar with the registration process. That is why businesses all over the country have been hiring third party registration firms to conduct the SAM registration for their business. GovernmentContractingTips.com is owned by the third party registration firm US Federal Contractor Registration.
US Federal Contractor Registration (USFCR) is the world's largest third party registration firm that registers businesses in System for Award Management. USFCR's staff of government contracting professionals will register a business in SAM, evaluate a business's federal market, and connect that business to federal buyers across the nation. Their innovative marketing strategies have been proven to work by tens of thousands of contractors who use their service.
US Federal Contractor Registration is a third party registration firm with corporate offices in Orlando, FL that has helped thousands of businesses complete their SAM registration and bid on contracts. US Federal Contractor Registration pairs businesses with a dedicated case manager who helps them every step of the way, from initial registration to bidding on contracts. US Federal Contractor Registration's BBB rating is A- thanks to the quality of their service and responsiveness to customers. To request a free evaluation and assessment by a Placement Specialist for your business, call the Contractor Helpline at (877) 252-2700 Ext. 1 or visit our website at https://www.uscontractorregistration.com/.