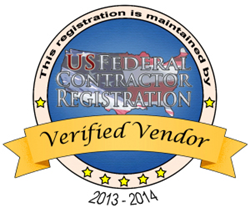 Orlando, FL (PRWEB) January 02, 2014
2014 is going to be a great year for properly registered government contractors, according to US Federal Contractor Registration. Thanks to newly created Government-Wide Acquisition programs such as OASIS, NASA SEWP, 8a STARS II, NETCENTS-2, TIPSS-3, and several others. The GSA among other agencies have been creating contracting vehicles that will guarantee in-definite delivery and in-definite quantity government contracts to businesses that win the bids to these contracts. Some of these GWACs even have small business advances that are designed to just target specific small businesses that provide needed goods and services.
US Federal Contractor Registration is alerting business owners and representatives that there are currently 17,300 government contracts available on FebBizOpps(FBO). FBO is the main database in which the federal government posts all of the available government contracts. These government contracts become available from procurement officers posting a solicitation on the database for qualified and properly registered government contractor in the corresponding state to bid on.
Federal regulations throughout the years have helped to increase participation in federal contracting by small businesses and underrepresented demographics. Currently, the federal government's small business prime contracting goal is set at 23% of all contracting dollars. This amount also includes set aside contracts for Women-Owned Small Businesses (WOSB), Service-Disabled Veteran-Owned Small Businesses (SDVOSB), and Historically Underutilized Business Zones (HUBZones).
In order for businesses to participate in government contracting, federal acquisition regulations require that they first register in the System for Award Management, or SAM. This database of federal contractors replaced the now defunct Central Contractor Registration and Online Representations and Certifications Application systems in July of 2012. Users who were previously registered with CCR and ORCA must migrate their registration to SAM in order to remain eligible for federal contract and grant awards; businesses new to government contracting must complete their new registration with SAM.
US Federal Contractor Registration is a third party registration firm that has helped thousands of businesses complete their registration and bid on contracts. US Federal Contractor Registration pairs businesses with a dedicated case manager who helps them every step of the way, from initial registration to bidding on contracts. To request a free evaluation and assessment by a Placement Specialist for your business, call the Contractor Helpline at (877) 252-2700 ext 1 or visit our website at https://www.uscontractorregistration.com/.