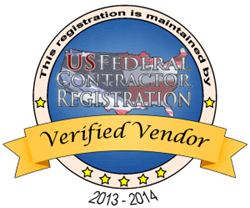 Orlando, FL (PRWEB) January 10, 2014
The GSA's System for Award Management (SAM) was forced to fix some technical issues with their just over a year old government registration database. SAM is the required database that every contractor must be update in to receive federal contracts and awards. Problems that were corrected were issues with the numbers displayed in the PDF copy of a business's Reps and Certs certification and users were unable to enter numbers in the domain name of the email address as posted in a release notice this past month. These issues have officially now been resolved and contractors are welcome to continue their online registration.
Since December of 2012, SAM has announced 11 internal 'Release Notes' that all describe running technical issues with their system. The unfortunate side of these issues are that they do not state how long the problem was on-going, just when the issue was resolved and brief details. In March of 2013, an online security door was left open allowing one of the largest online security breaches to occur in United States history. The breach left hundreds of thousands of confidential business information such as sole proprietors social security numbers, names and addresses exposed. This event was not mentioned in a internal release note nor was any notice given to contractors in SAM at the time.
Among the numerous problems with SAM, there is still a high percentage of businesses who do not register properly and are denied contracts because of their incorrect business information. The Georgia Tech Procurement Technical Assistance Center, "estimates that a high percentage of the 600,000 firms presently registered in SAM have errors in their records. The mistakes range from misspelled words to empty data fields, to incomplete entries, to selection of incorrect procurement codes, and other flaws. As a result, these vendors miss-out on government contract opportunities either because they are screened out for not exhibiting attention to detail or because of incomplete information they cannot be identified by government buyers." That is why US Federal Contractor Registration, the world's largest and most trusted third party registration has been helping businesses well before the inception of SAM with their government registration.
The previous systems of CCR and ORCA were merged and newly adopted into SAM in July of 2012. Since the birth of SAM there has been long running issues that have set back new and existing contractors involved in government contracting. US Federal Contractor Registration has registered over 60,000 businesses in SAM, approved businesses for federal set-asides, GSA Schedules and more. Some of their registration types aside from the SAM registration include Woman-Owned Small Business (WOSB), Service Disabled Veteran-Owned Business (VETBIZ), 8a Program, HUBZone, Wide Area Workflow, and DAPA registration.
US Federal Contractor Registration has registered private sector businesses such as McGraw Hill, HP, Wells Fargo, Xerox, GoodWill, Dixie, UPS, Heinz, Sheraton Hotels, Marriott, Westin, Interstate Oil, CITI, and Coldwell Banker. As well as academic institutions and colleges like NYC, Northwestern, Oxford, Southwestern, and Mercer. Numerous federal agencies like US Army, US Navy, Veteran Affairs and United States Department of Agriculture have also had their government paperwork facilitated by US Federal Contractor Registration Case Managers.
US Federal Contractor Registration pairs businesses with a dedicated Case Manager who help them every step of the way, from initial registration to bidding on contracts. If you are not registered in SAM or are an existing member and due for your Semi Annual Check Up, call the Contractor Helpline at (877) 252-2700 Ext 1. You can also register for government contracts on US Federal Contractor Registration's website at https://www.uscontractorregistration.com/. Winning bids and getting a good foothold in the federal marketplace can be difficult, that is why US Federal Contractor Registration will help businesses every step of the way making sure businesses not only survive but thrive.