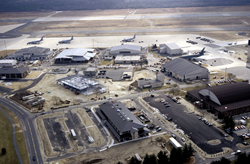 St. Petersburg, FL (PRWEB) February 24, 2014
The United State Air Force has posted solicitation number: FA4484-14-R-0005 to FedBizOpps to find a properly registered government contractor who meets their qualifications. Small businesses that fall under the North American Industry Classification (NAICS) code 811310 - commercial and industrial machinery and equipment (expect automotive and electronic) repair and maintenance should apply for this contract. Businesses are encouraged to review the Solicitation/Contract/Order For Commercial Items document on FedBizOpps to review full details of the project. In order for businesses to qualify for this NAICS they must first become registered in System for Award Management (SAM).
The solicitation requires services in providing supplies, equipment and labor in the repair of security barrier systems at the joint base of McGuire-Dix-Lakehurst Base located in Lakehurst, New Jersey. According to the solicitation, attendees are asked to submit names, Social Security Numbers, Driver License Numbers, date of birth, and State of Issue to danny.howell.3@us.af.mil. Contractors are encouraged to send in their Capability Statement to procurement officers and POCs of this contract to be considered. The proposed performance period is April 1st, 2014 through September 30th, 2014 with four one-year option periods. Any and all late proposals will be processed in accordance with FAR 52.215-10, Late Submissions, Modification, and Withdrawals of Proposals.
According to the Executive Summary of the FAR 4484-14-R-0005 solicitation, this contract is 100% set-aside for small businesses. The summary goes on to state that it is a mandatory requirement that all contractors applying be pre-registered in System for Award Management before applying. A lack of registration in SAM.gov will make any contractor ineligible for the award up for bid. Once a business registers in the SAM.gov Registration and has created an account on FedBizOpps (FBO.gov), they can then explore other government contracts as well on the massive database. The DoD along with the United States Navy post several thousand contracts on FedBizOpps every month. Even the Top 5 contractors in the Industrial Machinery such as Illinois Tool Works, Eaton, Parker Hannifin, Dover and SPX are required to be properly registered before bidding.
Marketing to the federal government is by far the most important once a business is registered in System for Award Management (SAM). US Federal Contractor Registration helps create marketing strategies and campaigns to help businesses network with procurement officers and win governments. Marketing strategies include but are not limited to the creation of a government-formatted website, email bid notification and capability statement distribution.
Wikipedia recognizes US Federal Contractor Registration for being a valuable resource for businesses registering in SAM and bidding on government contracts. The online encyclopedia states, "US Federal Contractor Registration (USFCR) is the world's largest third party registration that has registered over 60,000 businesses in System for Award Management (SAM) in order to become properly registered government contractors; and work for the government. USFCR's professional track record and second-to-none customer service has featured them as a highly creditable contracting source according to the Washington Post, FOX News and Washington Business Journal. US Federal Contractor Registration gives small businesses access to the same tools and strategies used by Fortune 500 companies contracting with the government."
If your business is not currently registered in SAM or you are an already existing member, call our Contractor Helpline at (877) 252-2700 Ext 1 to schedule a free federal marketplace evaluation. You can also easily register for government contracts on US Federal Contractor Registration's SAM.gov Online Registration.