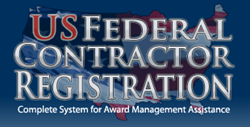 St. Petersburg, FL (PRWEB) March 12, 2014
US Federal Contractor Registration is pleased to announce the creation of the Additional Services page on their contractor assistance website. The Additional Services page showcases 8 different government registration types such as the G-SAP, WOSB/EDWOSB, 8a Program, VETBIZ, HUBZone, DAPA, GSA Schedule, and WAWF. US Federal Contractor Registration has even added on a brand new customized marketing campaign called the Federal Set-Aside Package. As always US Federal Contractor Registration remains to be the number one choice for contractors looking to become properly registered at SAM.gov (System for Award Management).
The Federal Set-Aside Package among many of its functions designs government-formatted websites for businesses, creates customized email marketing campaigns and provides contact information of some of the most recognized procurement officers across the nation. In the short time that the Federal Set-Aside Package has been out several hundred businesses have signed on for the program. If a business would like to speak to a representative to learn more about the Federal Set-Aside Program as well as any of the other registration types on the Additional Services page to call (877) 252-2700 Ext 1.
Georgia Tech PTAC office "estimates that a high percentage of the 600,000 firms presently registered in SAM.gov have errors in their records. The mistakes range from misspelled words to empty data fields, to incomplete entries, to selection of incorrect procurement codes, and other flaws. As a result, these vendors miss-out on government contract opportunities either because they are screened out for not exhibiting attention to detail or because of incomplete information they cannot be identified by government buyers." This shows that there is a real need for US Federal Contractor Registration's services.
In an effort to help businesses become registered and help the small business initiative US Federal Contractor Registration is encouraging businesses to use other their full service or their self-service options. Investing in US Federal Contractor Registration's full service plan prepares a contractor for all that is ahead. The full service includes yearlong technical support, annual SAM migration updates, added to the USFCR federal buyer newsletter, creation of a FEMA Vendor profile, grant assistance if needed, NAICS code research and the highly-recognized Verified Vendor Seal of Approval. Contractors can call (877) 252-2700 Ext 1 to start the government registration process or go to their SAM.gov Online Registration page. US Federal Contractor Registration complaints are handled very seriously due to the gravity and importance of federal paperwork compliance.
US Federal Contractor Registration has registered over 60,000 private sector businesses in the SAM registration some of which include McGraw Hill, HP, Wells Fargo, Xerox, GoodWill, Dixie, UPS, Heinz, Sheraton Hotels, Marriott, Westin, Interstate Oil, CITI, and Coldwell Banker. As well as academic institutions and colleges like NYC, Northwestern, Oxford, Southwestern, and Mercer. Numerous federal agencies like US Army, US Navy, Veteran Affairs and United States Department of Agriculture have also had their government paperwork facilitated by US Federal Contractor Registration Case Managers.