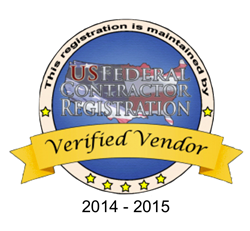 St. Petersburg, FL (PRWEB) March 18, 2014
For the first time since 2005 the Federal Government appears to have met its goal for procurement awards to small businesses. Information listed on the Small Business Dashboard on data.gov shows that out of $355.8 billion eligible dollars in FY2013, 23.42% were awarded to small businesses. Some agencies, such as the Department of Interior, Department of Agriculture, and the Small Business Administration awarded over half their eligible contracting dollars to small businesses.
Federal agencies may not have long to celebrate however as new legislation introduced in the House aims to increase the annual contracting goal for small business set-asides to 25%. In addition, federal procurement officers are still falling short in meeting their goals for Women-Owned and Certified HUBZone small businesses. Between President Obama's executive orders and developing legislation in Congress, the federal government is focused strongly on supporting small businesses as a part of economic recovery.
Small businesses can only benefit from these federal programs if they are properly registered in the System for Award Management, or SAM. In addition, it is strongly advised by authorities such as US Federal Contractor Registration and the Small Business Administration that vendors "aggressively" market their company to federal buyers.
US Federal Contractor Registration is the world's largest and most trusted third party registration firm, helping thousands of private businesses and public sector organizations register to do business with the federal government. To help small businesses participate in the federal market, US Federal Contractor Registration provides both full service and self service SAM registration assistance. The full service includes yearlong technical support, annual SAM migration updates, added to the USFCR federal buyer newsletter, creation of a FEMA Vendor profile, grant assistance if needed, NAICS code research and the highly-recognized Verified Vendor Seal of Approval.
US Federal Contractor Registration has helped over 60,000 private sector businesses complete their SAM registration, including McGraw Hill, HP, Wells Fargo, Xerox, GoodWill, Dixie, UPS, Heinz, Sheraton Hotels, Marriott, Westin, Interstate Oil, CITI, and Coldwell Banker. Academic institutions and colleges such as NYC, Northwestern, Oxford, Southwestern, and Mercer have sought the firm's assistance and numerous federal agencies including US Army, US Navy, Veteran Affairs and United States Department of Agriculture have also had their government paperwork facilitated by US Federal Contractor Registration Case Managers.