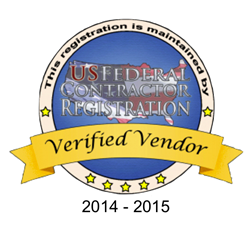 St. Petersburg, FL (PRWEB) March 25, 2014
The world's largest third part registration firm, US Federal Contractor Registration, is continuing to expand their operation and has opened a new office in the heart of Washington D.C. Businesses across the nation have being using US Federal Contractor Registration (USFCR)'s professional government registration and marketing services to improve their business. US Federal Contractor Registration currently has offices in Orlando and St. Petersburg, Florida and is still in the process of opening new locations around the world. Contractors that wish to become registered in SAM.gov can use the SAM.gov Online Registration form to get started today. If your business is currently registered in System for Award Management (SAM) and you wish to start winning more government contacts call (877) 252-2700 Ext 1 to conduct a Semi Annual Check Up with one of our Government Acquisition Specialists.
Wikipedia recognizes US Federal Contractor Registration for being a valuable resource for businesses registering in SAM and bidding on government contracts. The online encyclopedia states, "US Federal Contractor Registration (USFCR) is the world's largest third party registration that has registered over 60,000 businesses in System for Award Management (SAM) in order to become properly registered government contractors; and work for the government. USFCR's professional track record and second-to-none customer service has featured them as a highly creditable contracting source according to the Washington Post, FOX News and Washington Business Journal. US Federal Contractor Registration gives small businesses access to the same tools and strategies used by Fortune 500 companies contracting with the government."
US Federal Contractor Registration has registered private sector businesses such as McGraw Hill, HP, Wells Fargo, Xerox, GoodWill, Dixie, UPS, Heinz, Sheraton Hotels, Marriott, Westin, Interstate Oil, CITI, and Coldwell Banker. As well as academic institutions and colleges like NYC, Northwestern, Oxford, Southwestern, and Mercer. Numerous federal agencies like US Army, US Navy, Veteran Affairs and United States Department of Agriculture have also had their government paperwork facilitated by US Federal Contractor Registration Case Managers.
US Federal Contractor Registration pairs businesses with a dedicated Case Manager who help them every step of the way, from initial registration to bidding on contracts. If you are not registered in SAM or are an existing member and due for your Semi Annual Check Up, call the Contractor Helpline at (877) 252-2700 Ext 1. You can also register for government contracts on US Federal Contractor Registration's website at https://www.uscontractorregistration.com/. Winning bids and getting a good foothold in the federal marketplace can be difficult, that is why US Federal Contractor Registration will help businesses every step of the way making sure businesses not only survive but thrive.