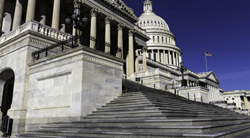 Washington D.C. (PRWEB) March 27, 2014
There is a new Government-Wide Acquisition Contract in the federal marketplace and it is called CIO-CS. According to Federal Times, the CIO-CS is a 10 year indefinite-quantity and indefinite-delivery contract that will provide a $10 billion ceiling limit. The CIO-CS will replace the older GWAC of ECS III and provide IT commodities that apply to health and life sciences in a number of IT related areas. IT areas will include telecommunications, infrastructure, security and desktop applications. The Request for Proposal (RFP) is planned to provide between 10 to 15 awards under the NAICS code 334111. 50% of the federal contracting procurement of CIO-CS will be devoted to small businesses registered in System for Award Management (SAM). Businesses must first be properly registered at SAM.gov in order to bid on currently available GWACs. That is why tens of thousands of businesses have turned to US Federal Contractor Registration (USFCR) to become properly registered in SAM.gov and start marketing to the federal government.
Investing in US Federal Contractor Registration's full service plan prepares a contractor for all that is ahead. The full service includes year long technical support, annual SAM migration updates, added to the USFCR federal buyer newsletter, creation of a FEMA Vendor profile, grant assistance if needed, NAICS code research and the highly-recognized Verified Vendor Seal of Approval. Contractors can call (877) 252-2700 Ext 1 to start the government registration process or go to their SAM.gov Online Registration page. US Federal Contractor Registration complaints are immediately handled and take extremely seriously due to the gravity and importance of federal paperwork compliance.
If a business is not fiscally prepared for the full service option there is still hope. US Federal Contractor Registration has Self Service option called GovernmentContractingTips.com. GovernmentContractingTips.com includes easy registration walkthroughs, video tutorials and free packet downloads on a range of topics from SAM registration to GSA Schedules. The 'First Steps to Government Contracting' breaks down the process from the basic registration to marketing your business and bidding on contracts. The 'First Steps' has helped thousands of businesses learn the ins and outs of the federal marketplace. Even if you decide to use our full service registration we still encourage you to reference GovernmentContractingTips.com because of the wide range of information it contains. Any business new to government contracting will find this website extremely valuable and easy to navigate.
US Federal Contractor Registration has registered over 60,000 private sector businesses in the SAM registration some of which include McGraw Hill, HP, Wells Fargo, Xerox, GoodWill, Dixie, UPS, Heinz, Sheraton Hotels, Marriott, Westin, Interstate Oil, CITI, and Coldwell Banker. As well as academic institutions and colleges like NYC, Northwestern, Oxford, Southwestern, and Mercer. Numerous federal agencies like US Army, US Navy, Veteran Affairs and United States Department of Agriculture have also had their government paperwork facilitated by US Federal Contractor Registration Case Managers.