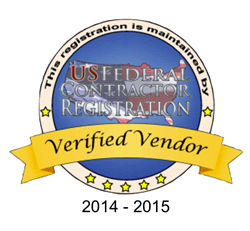 Washington, D.C. (PRWEB) April 26, 2014
DoD officials and contractors alike have been facing difficulties due to the arbitrary budget cuts, making the future uncertain for contractors. An annual study released by Bloomberg of the top 200 federal contractors indicated that Defense Department spending has dropped 15% this past fiscal year. Since the cuts are across the board and are not tied to an overall goal other than reduced spending, it has caused both federal agencies and contractors trouble in planning for the future.
However, despite these setbacks many contractors are finding success. According to the Washington Post, financial reports recently released by major defense contractors including Lockheed Martin, General Dynamics, and Northrop Grumman show these firms have seen increased profits even as they experienced reduced sales during the first quarter of 2014.
Opportunities are not only available for large companies such as these. Nearly 25% of the over 67,000 new prime solicitations posted on FedBizOpps in the last 90 days were labeled as set asides for small businesses. Legislation introduced in Congress earlier this year, including the 2014 Contracting Data and Bundling Accountability Act, are hoped to further increase opportunities for small business contractors. Federal agency representatives at the April 24th ACT-IAC's 2014 Small Business Conference also commented that the perception that small businesses cannot compete against larger firms is simply untrue. Out of 14,000 vendors contracting with the Department of Homeland Security in fiscal year 2013, 10,000 were small businesses and 1,700 of those were fulfilling their very first contract with DHS, according to Kevin Boshears, director of DHS's office of small business and disadvantaged business utilization staff.
The first step for small businesses seeking to overcome hurdles in the federal market is to properly register in System for Award Management, or SAM. Georgia Tech's PTAC office has estimated that a large percentage of the over 600,000 vendors currently registered in SAM have problems with their registration. While these problems could be as minor as a misspelling or single omission, such errors can result in contractors being passed over for contract awards due to a lack of attention to detail or because the incorrect or missing information makes it impossible for procurement officers to identify the firm or its eligibility for federal contracts.
In order to help increase federal contract awards to small businesses, US Federal Contractor Registration recommends that small firms utilize either their full service or self-service resources to help them successfully complete their SAM registration. US Federal Contractor Registration's full service plan prepares a contractor for all that is ahead. The full service includes yearlong technical support, annual SAM migration updates, added to the USFCR federal buyer newsletter, creation of a FEMA Vendor profile, grant assistance if needed, NAICS code research and the highly-recognized Verified Vendor Seal of Approval. US Federal Contractor Registration complaints are handled very seriously due to the gravity and importance of federal paperwork compliance.
US Federal Contractor Registration has registered over 60,000 private sector businesses in the System for Award Management, including McGraw Hill, HP, Wells Fargo, Xerox, GoodWill, Dixie, UPS, Heinz, Sheraton Hotels, Marriott, Westin, Interstate Oil, CITI, and Coldwell Banker. Their clients also include academic institutions and colleges like NYC, Northwestern, Oxford, Southwestern, and Mercer. Numerous federal agencies like US Army, US Navy, Veteran Affairs and United States Department of Agriculture have also had their government paperwork facilitated by US Federal Contractor Registration Case Managers. For more information about federal contracting requirements and US Federal Contractor Registration's full service plan, please call the Contractor Helpline at (877) 252-2700 Ext 1 or visit https://www.uscontractorregistration.com/.