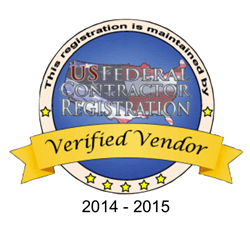 Washington D.C. (PRWEB) May 15, 2014
Determining whether you as a business owner/representative should conduct your own System for Award Management (SAM) registration can be a very difficult question. Trying to attempt a filing process that is brand new to you can be the biggest mistake you can make for your business. One of the biggest issues with businesses filing their own SAM registration is that they do not perform the SAM registration correctly and are subject to possible fines depending on the error.
Before you decide to start your own System for Award Management (SAM) registration ask yourself the following questions:
1) Do you have an in-house attorney?
2) Do you hire an accountant to professionally file your taxes?
3) Have you read the current updated FAR Manual?
4) Do you employ someone at your business to track all your accounts?
5) Are you or any of your employees free of felonies?
6) Are you familiar with the federal government's acquisition process and/or FedBizOpps?
7) Do you have a dedicated marketing person on staff?
8) Has your businesses registered for a Dun & Bradstreet number?
9) Have you looked into small business federal set-asides for added procurement funding and opportunities?
If you have said no to four or more of the listed questions above you are a business that is highly recommended to use a third party registration firm to conduct your SAM registration. If you said yes to eight or more of these questions there is a very good chance that you will be able to conduct the SAM registration on your own without the assistance of a professional third party registration firm. Please keep in mind lawyers, doctors and accountants have all hired third party registration firms due to the scrutiny of the process and lack of knowledge in federal acquisition information.
These are 9 major questions that you must take into account before you attempt to conduct your SAM registration. The Georgia Tech PTAC estimates that "around 600,000 firms presently registered in SAM.gov have errors in their records. The mistakes range from misspelled words to empty data fields, to incomplete entries, to selection of incorrect procurement codes, and other flaws. As a result, these vendors miss-out on government contract opportunities either because they are screened out for not exhibiting attention to detail or because of incomplete information they cannot be identified by government buyers."
Businesses that hire third party registration firms are not put at any risk during the government registration process due to the experience and validation of services. Most businesses not only look at it as a safe investment but a guarantee of approval. Why put your business at risk of fines or unresolved issues? Businesses that are not properly registered in the SAM registration usually are given a federal fine, neglected by procurement officers and/or left idle in the massive database.
To add insult to injury, our United States Government will not tell you (the business owner) what specifically you did wrong in the SAM registration. The Federal Government has no required obligation to show you where you made your error and how to fix it. In fact, if your business files the SAM registration on your own and files the Reps & Certs section incorrectly you can receive a possible fine between $10,000 to $100,000 as subject in the civil penalty stated in the FAR 31 1352-(C). Is this a risk you are willing to take? The federal government fines businesses for an incorrect filing of the Reps & Certs section because it appears that you are lying about your financial documentation.
US Federal Contractor Registration has registered over 60,000 private sector businesses in the SAM registration some of which include McGraw Hill, HP, Wells Fargo, Xerox, GoodWill, Dixie, UPS, Heinz, Sheraton Hotels, Marriott, Westin, Interstate Oil, CITI, and Coldwell Banker. As well as academic institutions and colleges like NYC, Northwestern, Oxford, Southwestern, and Mercer. Numerous federal agencies like US Army, US Navy, Veteran Affairs and United States Department of Agriculture have also had their government paperwork facilitated by US Federal Contractor Registration Case Managers.