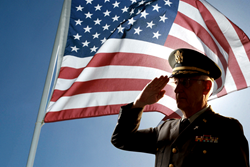 St. Petersburg, FL (PRWEB) June 08, 2014
US Federal Contractor Registration's SAM Assistance Program has released their newest episode that covers VETBIZ Registration for service-disabled veteran owned businesses involved in government contracting. Businesses that wish to become registered in VETBIZ must qualify for the basic requirements of the registration. Some of the main requirements of the VETBIZ registration include:

Must have a service-connected disability that has been determined by the Department of Veteran Affairs or the Department of Defense
Must be considered small under North American Industry Classification System (NAICS) code assigned to procurement
The Service Disabled Veteran must unconditionally own 51%, control and manage daily operations, and hold the highest officer position in their business
US Federal Contractor Registration goes into more depth in the video about the VETBIZ registration process. US Federal Contractor Registration is always prepared to provide to contractors interested in learning more with assistance. Simply call their Contractor Helpline at (877) 252-2700 Ext 1.
The SAM Assistance Program is a segment on US Federal Contractor Registration's Youtube page that discusses GSA schedules, SAM, CCR/ORCA, DSBS, FBO and federal set-asides like 8a, VETBIZ, WOSB, HUBZone, etc. The program also talks about available marketing services for businesses through US Federal Contractor Registration. These market services provide businesses more opportunities to win government contracts in the federal marketplace. All episodes of The SAM Assistance Program can be viewed on the #1 Federal Resource in Government Contracting, GovernmentContractingTips.com.
US Federal Contractor Registration has registered over 60,000 businesses in System for Award Management (SAM). Some of the businesses include Fortune 500 companies, non-profits and even government agencies like the DoD and USDA. Businesses have chose US Federal Contractor Registration because of their professional track record and global procurement connections.
US Federal Contractor Registration is encouraging businesses to use other their service to become properly registered for government contracting. US Federal Contractor Registration prepares a contractor for the road that is ahead in government contracting. Some of US Federal Contractor Registration's services include yearlong technical support, annual SAM migration updates, a USFCR federal buyer newsletter, the creation of a FEMA Vendor profile, grant assistance if needed, NAICS code research and the highly-recognized Verified Vendor Seal of Approval.
US Federal Contractor Registration has registered over 60,000 private sector businesses in the SAM registration some of which include McGraw Hill, HP, Wells Fargo, Xerox, GoodWill, Dixie, UPS, Heinz, Sheraton Hotels, Marriott, Westin, Interstate Oil, CITI, and Coldwell Banker. As well as academic institutions and colleges like NYC, Northwestern, Oxford, Southwestern, and Mercer. Numerous federal agencies like US Army, US Navy, Veteran Affairs and United States Department of Agriculture have also had their government paperwork facilitated by US Federal Contractor Registration Case Managers.