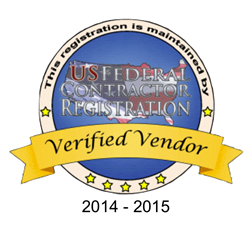 Washington D.C. (PRWEB) June 11, 2014
After a long series of changes and brainstorming, Director of Marketing for US Federal Contractor Registration, Max Timko and Head Web Designer of GovKinex, Kamron Nelson have redesigned the new online informational hub of government contracting knowledge. GovernmentContractingTips.com has changed from the once small blog into a massive database of contracting data gold.
Government Contracting Tips provides a resource guide called the 'First Steps to Government Contracting Guide,' which contains over 100 pages of government contracting information. System for Award Management (SAM) registration and CCR/ORCA migration are provided in free packets now. There are entire sections just devoted to information that covers Federal Set-Asides like Woman Owned Small Business (WOSB) registration, VETBIZ registration, 8a registration, HUBZone registration, etc. as well as specialized registration types like Wide Area Workflow (WAWF) and DAPA. The new design makes navigation a breeze and a pleasure to use.
Government Contracting Tips also provides a page where contractors can discover if their business qualifies for government contracting. Simply answer the 7 simple questions and you will be contacted shortly afterwards by a US Federal Contractor Registration Acquisition Specialist. Government Contracting Tips even discusses ways to become involved with a GSA Schedule and strategies on how to start marketing to federal agencies across the nation. The website even includes The SAM Assistance Program, which is a segment on US Federal Contractor Registration's Youtube page.
US Federal Contractor Registration has registered over 60,000 businesses in System for Award Management (SAM). Some of the businesses include Fortune 500 companies, non-profits and even government agencies like the DoD and USDA. Businesses have chose US Federal Contractor Registration because of their professional track record and global procurement connections.
US Federal Contractor Registration is encouraging businesses to use other their service to become properly registered for government contracting. US Federal Contractor Registration prepares a contractor for the road that is ahead in government contracting. Some of US Federal Contractor Registration's services include yearlong technical support, annual SAM migration updates, a USFCR federal buyer newsletter, the creation of a FEMA Vendor profile, grant assistance if needed, NAICS code research and the highly-recognized Verified Vendor Seal of Approval.
US Federal Contractor Registration has registered over 60,000 private sector businesses in the SAM registration some of which include McGraw Hill, HP, Wells Fargo, Xerox, GoodWill, Dixie, UPS, Heinz, Sheraton Hotels, Marriott, Westin, Interstate Oil, CITI, and Coldwell Banker. As well as academic institutions and colleges like NYC, Northwestern, Oxford, Southwestern, and Mercer. Numerous federal agencies like US Army, US Navy, Veteran Affairs and United States Department of Agriculture have also had their government paperwork facilitated by US Federal Contractor Registration Case Managers.