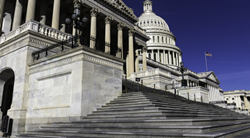 Washington D.C. (PRWEB) June 12, 2014
US Federal Contractor Registration is reporting that a recent study released May 21, 2014 at GAP.gov shows an increase in suspension and debarment actions by federal agencies since recommendations were made to improve these programs in fiscal year 2011. The six agencies reviewed in GAO's report included the Department of Commerce, Department of Health and Human Services, Department of Justice, Department of State, Department of the Treasury and Federal Emergency Management Agency. All the agencies made recommended changes addressing staffing issues, policies, guidance and case referrals, which resulted in increasing their suspension and debarment actions from 19 in 2009 to 271 in 2013.
The increase in suspensions and debarments can be seen government-wide, not only in these six agencies. The GAO report also notes that total actions more than doubled from 1,836 in 2009 to 4,812 in 2013. As agencies further improve their suspension and debarment programs, these numbers may continue to rise in future fiscal years.
Improved suspension and debarment programs also emphasize how important it is that government contractors follow all rules and regulations while registering and submitting bids for federal contract awards. While these penalties are focused on rooting out fraudulent and unethical activities by vendors, simple mistakes on a vendor's System for Award Management registration may result in an inconvenient and expensive investigation, as well as loss of contract opportunities. US Federal Contractor Registration is currently taking phone calls from concerned contractors at (877) 252-2700 Ext 1.
For these reasons, US Federal Contractor Registration highly recommends that prospective contractors use a third party registration firm to help them complete their SAM registration. This registration can be extremely difficult for an inexperienced individual to complete correctly. The GeorgiaTech PTAC estimates that a high percentage of the over 600,000 firms currently registered in SAM have filed their registration incorrectly or omitted vital information. These errors can result in being deemed ineligible for contract awards or worse – fines and even criminal penalties can be assessed depending on the discrepancies.
US Federal Contractor Registration is the world's largest third party registration firm. Their experienced and professional case managers have helped tens of thousands of private businesses, nonprofit organizations and government facilities properly register to do business with the federal government. For more information on how to avoid expensive mistakes and get properly registered in SAM, visit US Federal Contractor Registration's website for more information.