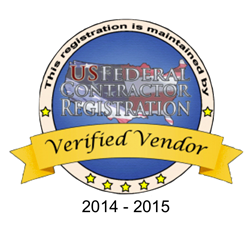 Washington D.C. (PRWEB) June 13, 2014
US Federal Contractor Registration has improved its HUBZone Program for the 2014 year by incorporating brand new marketing campaigns and ways to network with procurement officers across the nation. According to the SBA (Small Business Administration), the Historically Underutilized Business Zones (HUBZone) Empowering Contract Program was enacted into a law as part of the Small Business Reauthorization Act in 1997. Businesses can now qualify by determining if the location of their business is in what the federal government deems as a HUBZone.
If the federal government determines that your business is located in a HUBZone or distressed area, your business will be provided with more federal contracting opportunities in an effort to increase profit flow to your region. The overall goal is to devote about $15 billion of all federal contracting dollars to HUBZone-certified small businesses. The Small Business Administration (SBA) has specific requirements that a business must meet to qualify as a HUBZone-certified business.
Businesses must qualify for the following basic requirements in order to become registered under the HUBZone program:

It must be a small business by SBA standards
It must be owned and controlled at least 51% by U.S. citizens, or a Community Development Corporation, an agricultural cooperative, or an Indian tribe
Its principal office must be located within a 'Historically Underutilized Business Zone,' which included lands considered 'Indian Country' and military facilities closed by the Base Realignment and Closure Act
At least 35% of its employees must reside in a HUBZone
US Federal Contractor Registration is encouraging businesses to use other their service to become properly registered for government contracting. US Federal Contractor Registration prepares a contractor for the road that is ahead in government contracting. Some of US Federal Contractor Registration's services include yearlong technical support, annual SAM migration updates, a USFCR federal buyer newsletter, the creation of a FEMA Vendor profile, grant assistance if needed, NAICS code research and the highly-recognized Verified Vendor Seal of Approval.
US Federal Contractor Registration has registered over 60,000 private sector businesses in the SAM registration some of which include McGraw Hill, HP, Wells Fargo, Xerox, GoodWill, Dixie, UPS, Heinz, Sheraton Hotels, Marriott, Westin, Interstate Oil, CITI, and Coldwell Banker. As well as academic institutions and colleges like NYC, Northwestern, Oxford, Southwestern, and Mercer. Numerous federal agencies like US Army, US Navy, Veteran Affairs and United States Department of Agriculture have also had their government paperwork facilitated by US Federal Contractor Registration Case Managers.