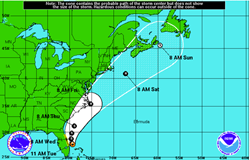 Washington D.C. (PRWEB) July 02, 2014
The National Hurricane Center in Miami, Florida is reporting the the creation of a small tropical cyclone formation just east of the Central Florida Atlantic Coast. Currently the low pressure area of the storm is about 140 miles east of the coast and has an 80% chance of developing into a tropical system. Florida is expected heavy rain fall this week with a chance of flash flooding. Meteorologists are expecting Tropical Storm Arthur to hit the coast of the Carolinas (North and South) with wind speeds between 70 and 80 mph. By 8am Thursday morning Tropical Storm Arthur is expected to be making its way up the coast of Georgia and making its way into South Carolina. As Tropical Storm Arthur makes its way northeast there is a chance the winds will pick up and a Hurricane will be created by 8am this Saturday.
Businesses must become a registered FEMA contractor in order to help in the relief efforts when a natural disaster strikes. Businesses must receive a DUNS number and register in System for Award Management (SAM). US Federal Contractor Registration in encouraging businesses to call (877) 252-2700 Ext 1 in order to register in SAM and submit their FEMA paperwork to be prepared for Hurricane season this year. If a business would like to learn more about FEMA and no bid contracting they can reference the FEMA section on GovernmentContractingTips.com. The website Government Contracting Tips provides a free packet for any businesses that would like to learn more about providing disaster relief to the Federal Government. The FEMA Packet includes the following information:

Forming a successful FEMA business plan
How to incorporate FEMA into your web presence
Tips on marketing to FEMA's disaster relief effort
FEMA procurement office contact information & the top 5 FEMA contractors
In an effort to help businesses become registered as a FEMA contractor and help the small business initiative, US Federal Contractor Registration is encouraging businesses to use their full service to become properly registered in government contracting. Investing in US Federal Contractor Registration's full service plan prepares a contractor for all that is ahead. The full service includes year-long technical support, annual SAM migration updates, added to the USFCR federal buyer newsletter, creation of a FEMA Vendor profile, grant assistance if needed, NAICS code research and the highly-recognized Verified Vendor Seal of Approval.
US Federal Contractor Registration has registered over 60,000 private sector businesses in the SAM registration some of which include McGraw Hill, HP, Wells Fargo, Xerox, GoodWill, Dixie, UPS, Heinz, Sheraton Hotels, Marriott, Westin, Interstate Oil, CITI, and Coldwell Banker. As well as academic institutions and colleges like NYC, Northwestern, Oxford, Southwestern, and Mercer. Numerous federal agencies like US Army, US Navy, Veteran Affairs and United States Department of Agriculture have also had their government paperwork facilitated by US Federal Contractor Registration Case Managers.