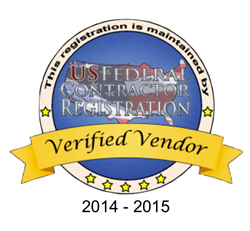 Washington D.C. (PRWEB) July 15, 2014
This past week on Friday, July 11th John Wayne of US Federal Contractor Registration presented about government contracting and available opportunities in the federal marketplace at the 2014 National Black Chamber of Commerce in downtown Chicago, IL. The hundreds of business owners and attendees present at the event were able to speak and network with John Wayne, a top Acquisition Specialist at US Federal Contractor Registration and Max Timko, Director of Marketing at US Federal Contractor Registration.
US Federal Contractor Registration discussed the use of federal resources such as FedBizOpps, the Federal Procurement Data System, USASpending, Dynamic Small Business Search and the DLA's BINKS. Timko stated, "It was nice to see how many business owners were not only excited to learn about government contracting but ready to get involved immediately after our presentation. When we mentioned resources such as DSBS and FBO it was amazing to see how many people had never heard of them. There were others in the audience that were familiar with SAM (System for Award Management) and the government registration process from working with PTAC but still needed advice on winning contracts. I am very pleased that the NBCC invited us to speak at their 2014 convention and look forward to hearing from businesses that attended our presentation." Businesses that wish to reach out to John Wayne can call his personal business line at (877) 252-2700 Ext 747.
The mission of the NBCC is to economically empower and sustain African American communities through entrepreneurship and capitalistic activity within the United States and via interaction with the Black Diaspora.
US Federal Contractor Registration has registered over 60,000 private sector businesses in the SAM registration some of which include McGraw Hill, HP, Wells Fargo, Xerox, GoodWill, Dixie, UPS, Heinz, Sheraton Hotels, Marriott, Westin, Interstate Oil, CITI, and Coldwell Banker. As well as academic institutions and colleges like NYC, Northwestern, Oxford, Southwestern, and Mercer. Numerous federal agencies like US Army, US Navy, Veteran Affairs and United States Department of Agriculture have also had their government paperwork facilitated by US Federal Contractor Registration Case Managers.