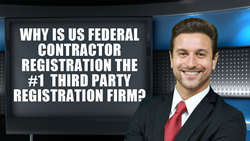 Washington D.C. (PRWEB) July 16, 2014
US Federal Contractor Registration released a video this month describing how their firm is not only the largest third party registration firm in the world but also the most respected due to an overwhelming number of factors. US Federal Contractor Registration has helped businesses win billions of dollars in the federal marketplace and completed over 63,000 government registrations. This by far makes them the largest and most reputable firm of its kind.
Most businesses choose to use US Federal Contractor Registration's services because the government registration process is extremely time consuming. In order for a business to conduct the process on their own they must first learn how to fill out the registration and then take the time to create the System for Award Management (SAM) account. Once a business has created the account, keep in mind the business must properly maintain their account over the course of the entire year for system updates and statement changes.
US Federal Contractor Registration helps businesses win contracts on a city, state, and federal level. The government registration process through a third party registration firm is exactly like filing your taxes with an accountant. When a business owner files their taxes with an accountant they are reassured that their paperwork is filed correctly and free of any errors. Most importantly a business owner does not have to do the difficult process themselves. If someone tries to file their own taxes and files them incorrectly there are federal repercussions. It is exactly the same way when it comes to the System for Award Management registration process. The process isn't easy. There is plenty of room for errors and there are several pitfalls businesses get snagged in if they are unfamiliar with the overall process.
The United States Government will not tell the business owner what they specifically did wrong in their government registration if a mistake is made. The Federal Government has no required obligation to show contractors where they made their error or how to fix it. In fact, if a business business decides to do its own government registration and files the Reps & Certs section of System for Award Management incorrectly they can receive a possible fine between $10,000 to $100,000 as subject in the civil penalty stated in the FAR 31 1352-(C). Businesses choose to use US Federal Contractor Registration to make sure the process is handled by professionals.
The list of US Federal Contractor Registration references is literally endless and leading federal agencies like the Department of Defense, DLA and the USDA have even went out of their way to say what a great job US Federal Contractor Registration has done for their agencies. US Federal Contractor Registration has also been mentioned in several prominent publications like FOX News, Washington Business Journal, DefenseSystems.com and the Washington Post.
If interested in learning more about government contracting and speaking with an Acquisition Specialist, call (877) 252-2700 Ext 1 or go to https://www.uscontractorregistration.com/.