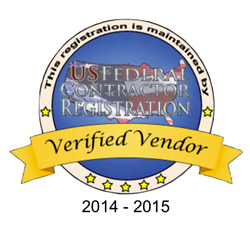 Washington D.C. (PRWEB) August 07, 2014
US Federal Contractor Registration has helped thousands of Woman Owned Small Businesses become approved to win federal set-aside contracts. The great thing about Woman Owned Small Business contracts is that the federal government devotes 5% of the overall national contracting budget to them and allows uncapped contract funding as well. US Federal Contractor Registration has tracked down the top Woman Owned Small Business government contracts in the state of Illinois and they are as follows:
Replace Exterior Walls B210 B218
Solicitation Number: FA671214R0001
Agency: Department of the Air Force
Office: Air Force Reserve Command
Location: 911 CONF/LGC
Central PA IDIQ Contract
Solicitation Number: GS-03P-14-AZ-CENTRALPA
Agency: General Services Administration
Office: Public Buildings Service (PBS)
Location: Acquisition Management Division (3PQC)
Requirements for WOSB Registration:

51% of business must be owned by one or more women
Business must be managed by a woman
Daily business operations must be controlled by a woman
Woman must be a registered U.S. Citizen
Personal net worth must be less than $750,000
Average adjusted gross yearly income over the three years before certification cannot exceed $350,000
All assets including primary home and value of business can not exceed $6 million
Woman must hold the highest officer position in company
Businesses that are interested in learning more about Woman Owned Small Business contracts listed above can call (877) 252-2700 Ext 1 to speak with a Acquisition Specialist at US Federal Contractor Registration to start the bidding process. Most businesses choose to use US Federal Contractor Registration's services because the government registration process is extremely time consuming. In order for a business to conduct the process on their own they must first learn how to fill out the registration and then take the time to create the System for Award Management (SAM) account. Once a business has created the account, keep in mind the business must properly maintain their account over the course of the entire year for system updates and statement changes.
US Federal Contractor Registration helps businesses win contracts on a city, state, and federal level. The government registration process through a third party registration firm is exactly like filing your taxes with an accountant. When a business owner files their taxes with an accountant they are reassured that their paperwork is filed correctly and free of any errors. Most importantly a business owner does not have to do the difficult process themselves. If someone tries to file their own taxes and files them incorrectly there are federal repercussions. It is exactly the same way when it comes to the System for Award Management registration process. The process isnt easy. There is plenty of room for errors and there are several pitfalls businesses get snagged in if they are unfamiliar with the overall process.
The United States Government will not tell the business owner what they specifically did wrong in their government registration if a mistake is made. The Federal Government has no required obligation to show contractors where they made their error or how to fix it. In fact, if a business business decides to do its own government registration and files the Reps & Certs section of System for Award Management incorrectly they can receive a possible fine between $10,000 to $100,000 as subject in the civil penalty stated in the FAR 31 1352-(C). Businesses choose to use US Federal Contractor Registration to make sure the process is handled by professionals.
The list of US Federal Contractor Registration references is literally endless and leading federal agencies like the Department of Defense, DLA and the USDA have even went out of their way to say what a great job US Federal Contractor Registration has done for their agencies. US Federal Contractor Registration has also been mentioned in several prominent publications like FOX News, Washington Business Journal, DefenseSystems.com and the Washington Post.