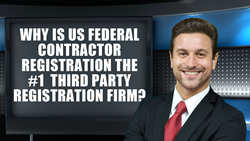 Orlando, FL (PRWEB) August 19, 2014
July 1st to September 31st is the last available window the United States Federal Government has to spend their remaining contracting dollars to properly registered government contractors. If procurement officers do not spend their entire budget they will lose a portion of their spending for the following year. Every procurement officer is also obligated to spend 23% of their overall budget to properly registered small businesses. These businesses must be entered into System for Award Management (SAM) and begin federal marketplace marketing to win contracts and network with agency staff. US Federal Contractor Registration provides professional government registration and marketing services to businesses looking to enter the federal marketplace and win contracts from the government.
Even the Georgia Technical Procurement Assistance Center has stated, "Based on our reviews, GTPAC estimates that a high percentage of the 600,000 firms presently registered in SAM have errors in their records. The mistakes range from misspelled words to empty data fields, to incomplete entries, to selection of incorrect procurement codes, and other flaws. As a result, these vendors miss-out on government contract opportunities either because they are screened out for not exhibiting attention to detail or because of incomplete information they cannot be identified by government buyers." Businesses seek the guidance of US Federal Contractor Registration/GovKinex to make sure their business is properly registered in System for Award Management and being directly marketed to the contracting officers that buy their specific services. US Federal Contractor Registration has helped win over a billion dollars in government contracting funds. Businesses trust their services due to the immediate results their clients receive once utilizing their resources and marketing strategies.
US Federal Contractor Registration testimonials and reviews are second to none with having registered over 65,000 businesses in System for Award Management. US Federal Contractor Registration has also registered and provided federal marketing solutions for businesses like McGraw Hill, HP, Wells Fargo, Xerox, GoodWill, Dixie, UPS, Heinz, Sheraton Hotels, Marriott, Westin, Interstate Oil, CITI, and Coldwell Banker; as well as academic institutions and colleges like NYC, Northwestern, Oxford, Southwestern, and Mercer. Numerous federal agencies like US Army, US Navy, Veteran Affairs and United States Department of Agriculture have also had their government paperwork facilitated by US Federal Contractor Registration Case Managers.
Does your business qualify for government contracting? To find out call US Federal Contractor Registration's Contractor Hotline at (877) 252-2700 Ext 1 or answer the qualifying questions at GovernmentContractingTips.com to determine if you are eligible for federal set-asides or simplified acquisition contracts.