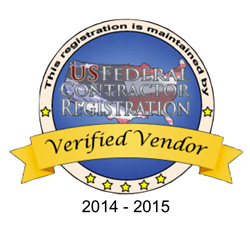 Orlando, FL (PRWEB) August 26, 2014
Over 63,000 businesses have trusted the expertise of US Federal Contractor Registration when marketing to the Federal Government and registering in System for Award Management(SAM). US Federal Contractor Registration is now offering a complimentary month of federal marketing to every business that registers in SAM using their service. The month of marketing will send out the following information to over 20,000 procurement officers across the nation:
Business Name
Point of Contact (POC) (limited to one)
140 Character Company Description
3 Keywords
CAGE CODE
DUNS Number
Federal Set-Asides, if applicable (WOSB, VETBIZ, 8a, Small Business, HUBZone, etc)
Businesses that wish to take advantage of this promotion can call (877) 252-2700 Ext 1 to speak with an Acquisition Specialist that will conduct a federal marketplace evaluation. The federal marketplace evaluation helps discover which federal departments to target, other competitors in their field and help determine which marketing solutions would be the best fit for their company. Marketing solutions can include state, region or nation-wide marketing, developing a simplified acquisition program, conducting a GSA Schedule or G-SAP filing, or creating a government-formatted website.
US Federal Contractor Registration is the leading third party registration in the world for conducting SAM registrations.US Federal Contractor Registration testimonials and reviews are second to none with having registered over 65,000 businesses in System for Award Management. US Federal Contractor Registration has also registered and provided federal marketing solutions for businesses like McGraw Hill, HP, Wells Fargo, Xerox, GoodWill, Dixie, UPS, Heinz, Sheraton Hotels, Marriott, Westin, Interstate Oil, CITI, and Coldwell Banker; as well as academic institutions and colleges like NYC, Northwestern, Oxford, Southwestern, and Mercer. Numerous federal agencies like US Army, US Navy, Veteran Affairs and United States Department of Agriculture have also had their government paperwork facilitated by US Federal Contractor Registration Case Managers.
Businesses seek the guidance of US Federal Contractor Registration and GovKinex to make sure their business is properly registered in System for Award Management and being directly marketed to the contracting officers that buy their specific services. US Federal Contractor Registration has helped win over a billion dollars in government contracting funds. Businesses trust their services due to the immediate results their clients receive once utilizing their resources and marketing strategies.