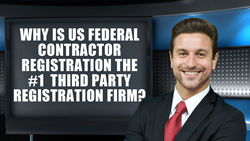 Orlando, FL (PRWEB) August 28, 2014
With a little more than a month remaining in the current fiscal year, contractors have been trying to find any available means to win the enormous amount of available government contracts. According to GovernmentContractingTips.com, FedBizOpps currently has over 38,300 contracts that are available to bid on. FedBizOpps only accounts for around a 1/3 of the available government contracts that are active.
Contractors must make a proactive marketing approach when trying to win government contracts and the rest that are not posted to FedBizOpps. US Federal Contractor Registration provides contractors with all of the available resources in winning a federal contract. First things first, contractors must become registered in System for Award Management (SAM) in order to bid on and win government contracts.
US Federal Contractor Registration's Youtube page provides a video tutorials and informational walk-throughs on the following topics:

System for Award Management (SAM)
Federal Set-Asides
8a Program
GSA Schedule
G-SAP
SUBNET
Past Performance
Government-Formatted Website Creation
FedBizOpps
Dynamic Small Business Search
Federal Procurement Data System….and more
These videos help businesses make sense of the government registration process and how to begin winning contracts from the Federal Government. Max Timko, host of The SAM Assistance Program, educates business owners about the ins and outs of government contracting.
Businesses seek the guidance of US Federal Contractor Registration and GovKinex to make sure their business is properly registered in System for Award Management and being directly marketed to the contracting officers that buy their specific services. US Federal Contractor Registration has helped win over a billion dollars in government contracting funds. Businesses trust their services due to the immediate results their clients receive once utilizing their resources and marketing strategies.
US Federal Contractor Registration testimonials and reviews are second to none with having registered over 65,000 businesses in System for Award Management. US Federal Contractor Registration has also registered and provided federal marketing solutions for businesses like McGraw Hill, HP, Wells Fargo, Xerox, GoodWill, Dixie, UPS, Heinz, Sheraton Hotels, Marriott, Westin, Interstate Oil, CITI, and Coldwell Banker; as well as academic institutions and colleges like NYC, Northwestern, Oxford, Southwestern, and Mercer. Numerous federal agencies like US Army, US Navy, Veteran Affairs and United States Department of Agriculture have also had their government paperwork facilitated by US Federal Contractor Registration Case Managers.
Does your business qualify for government contracting? To find out call US Federal Contractor Registration's Contractor Hotline at (877) 252-2700 Ext 1 or answer the qualifying questions at GovernmentContractingTips.com to determine if you are eligible for federal set-asides or simplified acquisition contracts.