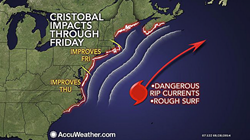 Washington D.C. (PRWEB) August 29, 2014
The newly formed Hurricane Cristobal is over 200 miles off the coast of the United States but that is not stopping it from causing damage to commercial shore real-estate. Hurricane Cristobal plans to continue it path up North Atlantic waters towards Canada. New York, New Jersey and some New England states are expected to get hit with some rough weather and giant swells on the coast line Thursday into Friday. The maximum wind speeds according to AccuWeather will peak around 75 mph on Thursday and start to dissipate around Friday afternoon.
FEMA even tweeted less than 24 hours ago that concerned citizens can "keep tabs on the strength, path and forecast of Hurricane Cristobal at NHC.Noaa.gov." Contractors that are interested in becoming involved in FEMA contracts must become a registered FEMA Contractor through System for Award Management and submitting documentation for approval directly to FEMA. Businesses that wish to learn more about disaster relief contracting with FEMA can download the free FEMA Packet from GovernmentContractingTips.com, which includes the following comprehensive information:

Creating a successful Business Plan
How to incorporate FEMA into your government-formatted website
How to market to FEMA's disaster relief departments
Basics of No Bid Contracting
FEMA Procurement Office Contact
If businesses would like to learn more about helping FEMA as a registered government contractor they can call US Federal Contractor Registration at (877) 252-2700 Ext 1 in starting the registration process.
About US Federal Contractor Registration
US Federal Contractor Registration is the leading third party registration in the world for conducting SAM registrations. US Federal Contractor Registration testimonials and reviews are second to none with having registered over 65,000 businesses in System for Award Management. US Federal Contractor Registration has also registered and provided federal marketing solutions for businesses like McGraw Hill, HP, Wells Fargo, Xerox, GoodWill, Dixie, UPS, Heinz, Sheraton Hotels, Marriott, Westin, Interstate Oil, CITI, and Coldwell Banker; as well as academic institutions and colleges like NYC, Northwestern, Oxford, Southwestern, and Mercer. Numerous federal agencies like US Army, US Navy, Veteran Affairs and United States Department of Agriculture have also had their government paperwork facilitated by US Federal Contractor Registration Case Managers.