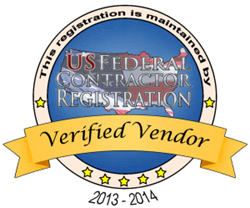 Washington D.C. (PRWEB) September 16, 2014
After months of nation news coverage, delays in contract alterations and a full scale protest, the Department of Homeland Security's EAGLE II contracting vehicle is ready to soar. EAGLE II is an information technology strategic sourcing contracting agreement that will be responsible for $22 billion in federal spending for the DHS. US Federal Contractor Registration is encouraging businesses to reach out to procurement officers and awarded prime contractors to win EAGLE II contracting opportunities currently available on FedBizOpps (FBO).
Currently seven of the nine competitive tracks for EAGLE II are still up for grabs. One of the nine competitive tracks in EAGLE II is specifically set-aside for 8(a) approved businesses. 8(a) businesses must be socially and economically disadvantaged. Businesses that are eligible for the 8a program as socially disadvantaged include:

Black Americans
Native Americans
Hispanic Americans
Subcontinent Asian Americans
Asian Pacific Americans
Businesses interested in finding out how they can start winning government contracts should call (877) 252-2700 Ext 1 and speak with a USFCR Acquisition Specialist. US Federal Contractor Registration is currently giving out free Federal Marketplace Evaluations to all businesses that decide to call in. The Federal Marketplace Evaluation helps businesses discover available government contracts, relevant federal set-asides, contact information for procurement officers and more.
About US Federal Contractor Registration
US Federal Contractor Registration is the world's largest third party registration firm that conducts everything from System for Award Management (SAM) to GSA Schedules. US Federal Contractor Registration testimonials and reviews are second to none with having registered over 65,000 businesses in System for Award Management. US Federal Contractor Registration has also registered and provided federal marketing solutions for businesses like McGraw Hill, HP, Wells Fargo, Xerox, GoodWill, Dixie, UPS, Heinz, Sheraton Hotels, Marriott, Westin, Interstate Oil, CITI, and Coldwell Banker; as well as academic institutions and colleges like NYC, Northwestern, Oxford, Southwestern, and Mercer. Numerous federal agencies like US Army, US Navy, Veteran Affairs and United States Department of Agriculture have also had their government paperwork facilitated by US Federal Contractor Registration Case Managers.