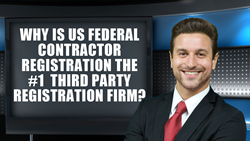 St. Petersburg, FL (PRWEB) September 25, 2014
US Federal Contractor Registration assisted West Coast Coupling with a National Government Marketing campaign that resulted in approximately $82,842 worth of awarded government contracting dollars. The amount won is roughly 27 times more their original investment West Coast Coupling made with the world's largest 3rd party registration firm US Federal Contractor Registration.
Max Timko, Director of Marketing/Public Relations conducted the federal marketing and campaigning with procurement officers from the DLA that resulted in 12 different contracts over the course of only 11 months. Records can be viewed at USASpending.gov or on the Federal Procurement Data System (FPDS). A Simplified Acquisition campaign helps contractors navigate the federal marketplace and determine a marketing strategy that best fits their business model. The marketing strategy proved to be a success and lead to thousands of dollars in new revenue.
West Coast Coupling has over 120 years of experience in manufacturing, engineering and logistics disciplines. These trades are all to accommodate the critical component hose, coupling and fitting needs. The Nevada based company has an expert Operations Manager that has been involved in the design and manufacture of thousands of specialty hoses used in the Aerospace, Wind Turbine and Cogeneration industries. Their International and Domestic Sales Group along with Logistics Team ensures timely quotations, timely processing of Purchase Orders and guarantees on-time delivery of shipments. Their online inventory contains thousands of specific coupling and fitting components, many of these parts are used to fabricate more complex hoses and tube assemblies with the addition of rubber and Teflon hose, metal tubes, braided tubes and special alloys used for extreme temperature applications.
West Coast Coupling has been a verified vendor with US Federal Contractor Registration since September 2013. Businesses that wish to become registered in System for Award Management and start marketing their business to government agencies across the nation can call Contractor Hotline at (877) 252-2700 Ext 1. First time callers will conduct a free Federal Marketplace Evaluation with a live Acquisition Specialist.
About US Federal Contractor Registration
US Federal Contractor Registration is the world's largest third party registration firm that conducts everything from System for Award Management (SAM) to GSA Schedules. US Federal Contractor Registration testimonials and reviews are second to none with having registered over 65,000 businesses in System for Award Management. US Federal Contractor Registration has also registered and provided federal marketing solutions for businesses like McGraw Hill, HP, Wells Fargo, Xerox, GoodWill, Dixie, UPS, Heinz, Sheraton Hotels, Marriott, Westin, Interstate Oil, CITI, and Coldwell Banker; as well as academic institutions and colleges like NYC, Northwestern, Oxford, Southwestern, and Mercer. Numerous federal agencies like US Army, US Navy, Veteran Affairs and United States Department of Agriculture have also had their government paperwork facilitated by US Federal Contractor Registration Case Managers.