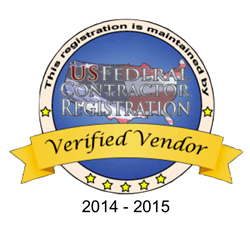 Washington D.C. (PRWEB) September 30, 2014
Verified Vendor Nancy's I.T. Guy is a Woman Owned information technology company that has provided local businesses and government agencies practical solutions to computer related problems. On September 23rd, 2014, the Department of Commerce Office of the Secretary awarded a contract for computer hardware to Nancy's I.T. Guy for the total of $31,920 in Wilson, Texas. Nancy's I.T. Guy utilized US Federal Contractor Registration's basic marketing program to win the Department of Commerce's contract. Their company was properly registered in System for Award Management (SAM) and given a list of the top contracting officers and prime contractors who buy/hire their type of services. Nancy's I.T. Guy was also registered in the government small business database called Dynamic Small Business Search to improve their chances of winning federal set-aside contracts and simplified acquisition contracts. Businesses that wish to track the total amount of contracts won by government contractors and can use USASpending.gov.
Nancy's I.T. Guy has been in business for over 20 years providing both residential and commercial computer solutions. Some of their services include system integration and development, management information systems, malicious software and virus removal, networking/configuration/troubleshooting, software installation and computer/printer/phone/tablet configuration. Nancy's I.T. Guy also has 24/7 emergency responses both for local on-site and remote computer support services.
Nancy's I.T. Guy has been a Verified Vendor with US Federal Contractor Registration since August 2014. The US Federal Contractor Registration Verified Vendor seal is presented to vendors after a Case Manager has helped them prepare their System for Award Management (SAM) registration. The seal notifies contracting officers and other clients that the vendor's registration is complete and free from errors. Businesses use the Verified Vendor Seal on their company website, online PDFs/brochures, email signatures and other Internet based applications.
Businesses that wish to become registered as a Verified Vendor and start marketing their business to government agencies across the nation can call the Contractor Hotline at (877) 252-2700 Ext 1. First time callers will get a free Federal Marketplace Evaluation with a live Acquisition Specialist.
About US Federal Contractor Registration
US Federal Contractor Registration is the world's largest third party registration firm that conducts everything from System for Award Management (SAM) to GSA Schedules. US Federal Contractor Registration testimonials and reviews are second to none with having registered over 65,000 businesses in System for Award Management. US Federal Contractor Registration has also registered and provided federal marketing solutions for businesses like McGraw Hill, HP, Wells Fargo, Xerox, GoodWill, Dixie, UPS, Heinz, Sheraton Hotels, Marriott, Westin, Interstate Oil, CITI, and Coldwell Banker; as well as academic institutions and colleges like NYC, Northwestern, Oxford, Southwestern, and Mercer. Numerous federal agencies like US Army, US Navy, Veteran Affairs and United States Department of Agriculture have also had their government paperwork facilitated by US Federal Contractor Registration Case Managers.