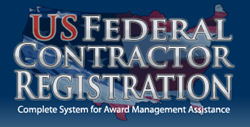 Orlando, FL (PRWEB) October 01, 2014
With the final fiscal quarter ending on September 30th, 2014, contractors are already renewing their government registration in advance so contracting officers can fulfill final procurement notices. US Federal Contractor Registration is creating customized marketing campaigns for businesses that are interested in entering the federal marketplace. Currently, US Federal Contractor Registration is helping businesses locate some of the remaining 39,000 available government contracts on FedBizOpps (FBO).
FedBizOpps (FBO) is the single government point-of-entry for federal government procurement opportunities over $25,000. FBO is one of the most valuable sources for properly registered government contractors seeking out new contracts and opportunities. FBO gives you the ability to search for available solicitations in your business's industry. Businesses can search by keywords, solicitation numbers, procurement types, posted dates, zip codes, classification codes, North American Industry Classification System (NAICS) codes, and even set-aside codes.
US Federal Contractor Registration highly encourages businesses to become registered in both System for Award Management (SAM) and FedBizOpps. Businesses must be registered in both of these online systems in order to bid on select available contracts placed throughout the country. There are a number of other solicitation bid boards that are agency-based that contractors can join as well. However, FBO accounts for over a 1/3 of all the available federal contracts on the market. Contractors that are actively searching on FBO should provide a Capability Statement, Past Performance, Vendor Profile and Testimonials. These key elements will help contracting officers immediately determine if you deserve a spot on the interested vendors list under each solicitation.
US Federal Contractor Registration is conducting Federal Marketplace Evaluations to every contractor interested in marketing to the federal government. The evaluation helps discover a business's federal competition, NAICS codes, federal set-asides and more. The Federal Marketplace Evaluation is currently a free promotion and can be utilized by calling the Contractor Hotline at (877) 252-2700 Ext 1 and speaking with a live Acquisition Specialist. The placement specialist will also go over SAM.gov registration along with FBO registration.
About US Federal Contractor Registration
US Federal Contractor Registration is the world's largest third party registration firm that conducts everything from System for Award Management (SAM) to GSA Schedules. US Federal Contractor Registration testimonials and reviews are second to none with having registered over 65,000 businesses in System for Award Management. US Federal Contractor Registration has also registered and provided federal marketing solutions for businesses like McGraw Hill, HP, Wells Fargo, Xerox, GoodWill, Dixie, UPS, Heinz, Sheraton Hotels, Marriott, Westin, Interstate Oil, CITI, and Coldwell Banker; as well as academic institutions and colleges like NYC, Northwestern, Oxford, Southwestern, and Mercer. Numerous federal agencies like US Army, US Navy, Veteran Affairs and United States Department of Agriculture have also had their government paperwork facilitated by US Federal Contractor Registration Case Managers.