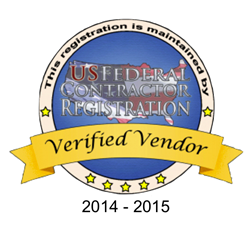 Washington D.C. (PRWEB) October 02, 2014
GovKinex, a division of the world's largest third party registration firm US Federal Contractor Registration has hit a new creative millstone in 2014. In only seven months time GovKinex has completed 300 government-formatted websites from February 2014 to September 2014. These websites are used to showcase a business's federal work and make it easier for procurement officers to navigate a business's federal information. Every government-formatted website includes pages for a business's Capability Statement, Vendor Profile, Past Performance, Testimonials, Services, Photo Gallery and Contact Information. A government-formatted website is a key component to US Federal Contractor Registration's Simplified Acquisition Marketing Campaign. Aside from the government-formatted website creation, businesses will also be added to a small business search database, receive contact information for procurement officers and prime contractors, and receive monthly e-mail bid notification directly to their inbox.
GovKinex websites have been proven to improve the chances of winning a government solicitation in the federal marketplace. According to government contractors like Mac Made Easy and R &R Express, creating a government-formatted website has become a necessity for businesses looking to improve their federal image and increase their chances at winning available government contracts. Both of these businesses have won hundreds of thousands of dollars in government contracts all thanks to a US Federal Contractor Registration's Simplified Acquisition Marketing Campaign.
A GovKinex website has the ability to bypass government spyware and firewalls to reach contracting officers seeking out businesses. GovKinex websites are even fully compatible with Dynamic Small Business Search (DSBS). DSBS is a federal database that contracting officers use to find businesses that meet their small business federal set-aside procurement requirements. Every procurement officer has a yearly contracting budget in which they must devote 23% to small business government contractors. Small businesses that are registered as a Total Small Business, Service-Disabled Veteran-Owned Business, Woman-Owned Business, 8a Business, and/or HUBZone Business will have the opportunity to win these lucrative contracts.
Businesses that would like to find out more federal set-asides or start utilizing a government-formatted website in a Simplified Acquisition Marketing Campaign can call the Contractor Hotline at (877) 252-2700 Ext 1 and speak with a live Acquisition Specialist to get started.
About US Federal Contractor Registration
US Federal Contractor Registration is the world's largest third party registration firm that conducts everything from System for Award Management (SAM) to GSA Schedules. US Federal Contractor Registration testimonials and reviews are second to none with having registered over 65,000 businesses in System for Award Management. US Federal Contractor Registration has also registered and provided federal marketing solutions for businesses like McGraw Hill, HP, Wells Fargo, Xerox, GoodWill, Dixie, UPS, Heinz, Sheraton Hotels, Marriott, Westin, Interstate Oil, CITI, and Coldwell Banker; as well as academic institutions and colleges like NYC, Northwestern, Oxford, Southwestern, and Mercer. Numerous federal agencies like US Army, US Navy, Veteran Affairs and United States Department of Agriculture have also had their government paperwork facilitated by US Federal Contractor Registration Case Managers.