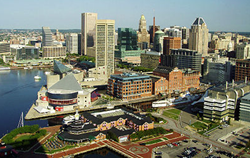 Orlando, FL (PRWEB) October 06, 2014
As procurement officers start preparing their new solicitations in the new fiscal year, 417 government contracts currently remain available in Maryland. Since the start of October, 11 brand new Total Small Business contracts have already been released from government agencies such as the Department of Health and Human Services, the Air Force, Department of Commerce, Environmental Protection Agency, and Army.
These small business services range from t-shirt printing to radioactive waste disposal. Businesses that work in or around the state of Maryland have the opportunity to bid on simplified acquisition contracts that have a low competition level and high contract payoff. Simplified acquisition refers to the Small Business Act term of Simplified Acquisition Threshold.
Simplified Acquisition Threshold applies to purchases over $3,000 and under $150,000. Purchases under $100,000 require less approval and less documentation involved in the purchase. Simplified Acquisition makes sure smaller contracts are fulfilled by total small businesses. There are currently tens of thousands of simplified acquisition contracts posted to FedBizOpps (FBO) currently. Businesses must become registered as a total small business in System for Award Management (SAM) in order to bid on these simplified acquisition contracts.
The United States Government federally mandates that every business looking receive grants or start winning government contracts must be properly registered in SAM. Businesses look to US Federal Contractor Registration for assistance in order to stay compliant with federal regulations. The Federal Acquisition Regulations states that "if a business files incorrect financial information, located in the Reps & Certs section) that business can receive a fie between $10,000 to $100,000 depending on the severity of the error." Businesses find comfort in the fact that their FBO profile and SAM registration is created by a professional government registration firm like US Federal Contractor Registration.
Businesses that would like to become registered in SAM, FBO or start winning simplified acquisition contracts can call the Contractor Hotline at (877) 252-2700 Ext 1 to speak with a live Acquisition Expert.
About US Federal Contractor Registration
US Federal Contractor Registration is the worlds largest third party registration firm that conducts everything from System for Award Management (SAM) to GSA Schedules. US Federal Contractor Registration testimonials and reviews are second to none with having registered over 65,000 businesses in System for Award Management. US Federal Contractor Registration has also registered and provided federal marketing solutions for businesses like McGraw Hill, HP, Wells Fargo, Xerox, GoodWill, Dixie, UPS, Heinz, Sheraton Hotels, Marriott, Westin, Interstate Oil, CITI, and Coldwell Banker; as well as academic institutions and colleges like NYC, Northwestern, Oxford, Southwestern, and Mercer. Numerous federal agencies like US Army, US Navy, Veteran Affairs and United States Department of Agriculture have also had their government paperwork facilitated by US Federal Contractor Registration Case Managers.