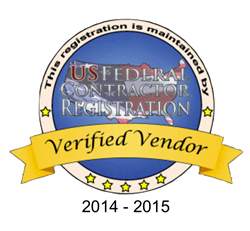 Orlando, FL (PRWEB) October 20, 2014
On October 14th, 2014, Excel Concrete Construction, Inc. officially became a certified participant in the Small Business Administration's (SBA) 8a Program. After much collaboration between Jessica Summers, Director of Case Management at US Federal Contractor Registration, and Sean Mills, President of Excel Concrete Construction, Inc., the necessary documentation was completed, submitted, and approved.
US Federal Contractor Registration Acquisition Specialist Tammy Helgren discussed with Mr. Mills in full detail the importance of an 8a Program. Mrs. Helgren used Dynamic Small Business Search (DSBS) and the Federal Procurement Data System (FPDS) to show that recipients of 8a Program contracts receive a higher contract priority due to its federal set-aside status. These small disadvantaged business contacts add up to billions of dollars in available government contracts. After conducting a Federal Marketplace Evaluation, Excel Concrete Construction, Inc. trusted US Federal Contractor Registration to begin the 8a Program process. The 8a Program has proven to be a game changer in government contracting. In fact, the Federal Government awarded over $10 billion to 8a Program qualified small businesses in 2012.
Excel Concrete was established in 2005 with a foundation of successful experience spanning back to 1967, when Ron Mills first opened Mills Concrete. Their experienced team has worked together extensively to complete a large variety of projects over the years. Many of their employees have had over 30 years or more of experience in the concrete business. Some of their more notable past performance projects includes: Hyatt Grand Champion Hotel & Tennis Stadium, Palm Desert Mall, San Diego Women's Detention Facility, Kona Wal-Mart and University Towne Center Parking Structures.
The 8a Business Development Program was created to help small disadvantaged businesses win federal government contracts. A business must be socially and economically disadvantaged in order to apply for this particular federal set-aside program. The 8a Program lasts for 9 years once a business has been certified, during which they are able to compete for eligible set-aside contracting opportunities. The benefits of the 8a Program are sole source selected contracts that have a contract ceiling of $6.5 million for manufacturing and $4 million for regular goods and services. Being a part of the 8a Program allows businesses to team up with other 8a participating businesses to work on larger prime contracts and awards that would normally be above the ceiling limit of normal 8a contracts.
Businesses that would like to learn how to become a certificated 8a Program business can call the Contractor Hotline at (877) 252-2700 Ext 1 or call Tammy Helgren directly at 727-471-2161. Businesses can also download a free copy of the 8a Program Check List at GovernmentContractingTips.com.
About US Federal Contractor Registration
US Federal Contractor Registration is the world's largest third party registration firm that conducts everything from System for Award Management (SAM) to GSA Schedules. US Federal Contractor Registration testimonials and reviews are second to none with having registered over 65,000 businesses in System for Award Management. US Federal Contractor Registration has also registered and provided federal marketing solutions for businesses like McGraw Hill, HP, Wells Fargo, Xerox, Goodwill, Dixie, UPS, Heinz, Sheraton Hotels, Marriott, Westin, Interstate Oil, CITI, and Coldwell Banker; as well as academic institutions and colleges like NYC, Northwestern, Oxford, Southwestern, and Mercer. Numerous federal agencies like US Army, US Navy, Veteran Affairs and United States Department of Agriculture have also had their government paperwork facilitated by US Federal Contractor Registration Case Managers.