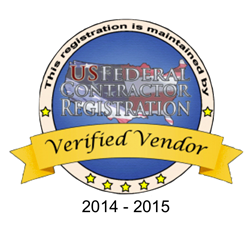 Washington D.C. (PRWEB) October 29, 2014
Simplified Acquisition Program Explained
Since its inception, the Simplified Acquisition Program has generated millions of dollars in government contracts for clients of US Federal Contractor Registration. Businesses like Mac Made Easy, Creative Tent International, Excel Concrete, Suburban Surgical Co., Inc, and Nancy's I.T. Guy are some of the businesses that have won government contracts in 2014 using the Simplified Acquisition Program.
US Federal Contractor Registration has managed to create the simplified acquisition program, which provides all the necessary registrations and procedures for businesses to establish themselves in the federal marketplace under the current acquisition environment. The Simplified Acquisition Program is designed to procure contracts under Federal Acquisition Regulation (FAR) see below.
The purpose of simplified acquisition program is to:

Reduce administrative costs;
Improve opportunities for small, small disadvantaged, women-owned, veteran-owned, HUBZone, and service-disabled veteran-owned small business concerns to obtain a fair proportion of Government contracts;
Promote efficiency and economy in contracting; and
Avoid unnecessary burdens for agencies and contractors.
Simplified Acquisition Procedures Policy under the simplified acquisition program.
The simplified acquisition threshold (SAT) is $150,000. The SAT can vary depending on the particular acquisition situation. For acquisitions of supplies or services for supporting a contingency operation or facilitating defense against or recovery from nuclear, biological, chemical, or radiological attack, the SAT is (i) $300,000 for contracts awarded and performed, or purchases made, inside the United States; and (ii) $1 million for contracts awarded and performed, or purchases made, outside the United States. The test program at FAR 13.5 raises the threshold for use of SAP for commercial items to $6.5 million.
Agencies are required to use SAP to the maximum extent practicable for purchases of supplies or services not exceeding the SAT.
SAP or (Simplified Acquisition Program) Methods
A supplier's submission of a quotation under SAP is not considered a formal offer, and cannot simply be accepted by the Government to form a binding contract. A contract is established only when the supplier accepts the Government's order, either in writing or by actually commencing performance.
The Government-wide commercial purchase card is the preferred method to purchase and to pay for micro-purchases — supplies or services valued no more than $3,000 (see the earlier "Note" regarding possible changes to applicable thresholds). The following exceptions apply:
$2,000 for construction projects subject to the Davis-Bacon Act
$2,500 for acquisitions of services subject to the Service Contract Act
For acquisitions of supplies or services that, as determined by the Agency Head, are to be used to support a contingency operation or to facilitate defense against or recovery from nuclear, biological, chemical or radiological attack (except for construction subject to the Davis-Bacon Act):
$15,000 in the case of any contract to be awarded and performed, or purchase to be made, inside the U.S.;
$30,000 in the case of any contract to be awarded and performed, or purchase to be made outside the U.S.
Micro-purchases may be awarded without soliciting competitive quotations if the contracting officer or designated official considers the price to be reasonable. For purchases exceeding the micro-purchase threshold but not exceeding the SAT, a Request for Quotation is used for soliciting competitive quotations. Once quotations are received and evaluated and the award decision is made, the Government issues a purchase order. Common forms used for purchase orders under SAP are the DD Form 1155 and Optional Form 347 (both entitled Order for Supplies or Services) and the Standard Form 1149 (Solicitation/Contract/Order for Commercial Items).
The use of blanket purchase agreements is another common SAP method. A blanket purchase agreement (BPA) is a simplified method of filling anticipated repetitive needs for supplies or services by establishing "charge accounts" with qualified sources of supply. A BPA can be prepared for a wide variety of items that are routinely purchased if the exact items, quantities, and delivery requirements are not known in advance. Once the BPA is established, "calls" are placed to order items from the BPAs. Individual purchases off of BPAs cannot exceed the SAT, except for commercial items under the test program or for "subsistence" (e.g., food) items at any value.
When using SAP, some procedures and guidance from FAR Part 12 (Acquisition of Commercial Items) and/or FAR Part 15 (Contracting by Negotiation) may apply in addition to FAR Part 13 procedures and guidance.
The Simplified Acquisition Program utilizes federal industry databases to help promote businesses and network with procurement officers across the nation. Simplified acquisition contracts are designed for small business and are very different then sealed bid government contracts. Procurement officers can even pay contractors with a SMART Pay card (credit card), a blank purchase agreement or even with cash if the contract is considered a simplified acquisition. Contracts that are over the simplified acquisition threshold of $150,000 must be documented by the procurement officer on the Federal Awardee Performance and Integrity Information System (FAPIIS). There is a lot of preparation required in creating a government solicitation and submitting it to a government bid board. If the procurement officer can award a smaller contract without all the involved paperwork they will gladly award the contract as a simplified acquisition to a contractor with great past performance.
Simplified acquisition contracts are rarely published to bid boards like FedBizOpps (FBO) because of their size and nature. The Simplified Acquisition Program gives a contractor all the tools needed to reach out to procurement officers and ask about their available simplified acquisition contracts. The Simplified Acquisition Program includes: a System for Award Management (SAM) registration, a complete government business plan with direct access to buyers and prime vendors, a customized profile in Dynamic Small Business Search (DSBS), monthly email bid notifications, a GovKinex government-formatted website with federal verification seal or verified vendor status, branded domain name, and year long training. US Federal Contractor Registration is the only authorized seller of the Simplified Acquisition program.
Businesses that would like to enroll in US Federal Contractor Registration's Simplified Acquisition Program can call the Contractor Hotline at 1(877) 252-2700 Ext 1. Every business that calls in will receive a Federal Marketplace Evaluation. Every Federal Marketplace Evaluation is used to help discover available government contracts and identity other federal set aside qualifications. This market evaluation is necessary before a contractor can enroll in the simplified acquisition program.