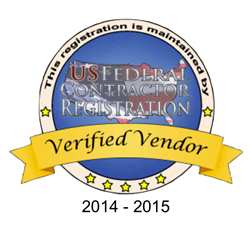 Washington D.C. (PRWEB) November 07, 2014
US Federal Contractor Registration is reporting a new Total Small Business solicitation posted to FedBizOpps (FBO) by the Air Force Reserve Command that is estimated in value between $100,000-$250,000. The Invitation for Bid (IFB) notice states that every business must be properly registered in System for Award Management (SAM) prior to bidding on the Bldg 418 - Paint Metal Roof solicitation. The Place of Performance is set for Coraopolis, Pennsylvania and reserved for small business contractors only. US Federal Contractor Registration is currently helping businesses qualify as Total Small Businesses and become properly registered in SAM in order to respond to this IFB.
Below is a copy of the Air Force Reserve Command's Bldg 418 - Paint Metal Roof IFB solicitation posted to FBO on November 6, 2014. The following solicitation will become active and available for bidding on January 8, 2015:
Bldg 418 - Paint Metal Roof
Solicitation Number: FA6712-15-B-0001
Agency: Department of the Air Force
Office: Air Force Reserve Command
Location: 911 CONF/LGC
The 911th Airlift Wing, Coraopolis, PA, 15108 intends to issue an Invitation for Bid (IFB) to award a single, firm fixed-price contract to provide for all labor, facilities, transportation, materials, tools, equipment, administration, and supervision to perform all operations necessary to complete Building 418 Roof Construction: (CLIN 0001) Removal of Lead Containing Paint; and (CLIN 0002), Prime and Paint Metal Roof. All work shall be accomplished in strict compliance with the contract documents. The total estimated cost range is between $100,000 and $250,000; the NAICS code is 238160; and the applicable size standard is $15.0 million. Invitation for Bid FA6712-15-B-0001 will be available o/a 05 December 2014.
This action is being reserved as a Small Businesses Set-Aside, with competition restricted to Small Business Concerns IAW FAR 52.219-6. Tentative bid opening date will be at least 30 days after issuance, or approximately 08 January 2015. Performance period is 59 calendar days after receipt of Notice to Proceed. This will be a delayed award, with lead abatement to commence after the weather breaks, estimated to be o/a 01 April 2015. Note: Interested bidders must have an active record in the System for Award Management (SAM) site at http://www.sam.gov. The solicitation, associated plans and specifications will be available from the FBO website.
Businesses looking to become registered in SAM, begin bidding on available contracts and contact procurement officers about no bid contracts can call Johnathan Maness of US Federal Contractor Registration at (202) 717-9057 to enroll in the Simplified Acquisition Program.
The Simplified Acquisition Program allows businesses to network with procurement officers and win available simplified acquisition contracts. Simplified acquisition contracts offer an easier federal buying process for both the purchasing officer and small business vendor. Unlike a normal bid where vendors must supply an exact quotation for the services or goods, a simplified acquisition contract allows Procurement Officers to pay with SMART Pay Cards or blanket purchase agreements. Simplified Acquisition purchases, like micro-purchase agreements and simplified acquisition contracts can be issued immediately and in large volume if required.
Businesses interested in bidding on the Bldg 418 - Paint Metal Roof Contract must reach out to point of contact Sue A. Gitto via sue.gitto@us.af.mil or by calling (412) 474-8123.