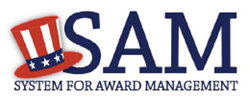 Washington D.C. (PRWEB) November 11, 2014
This past month, the General Services Administration (GSA) has made some rather large changes to the federal contractor database, System for Award Management (SAM). It has been proven time and time again that when changes are made to SAM, contractors are immediately effected. This time the changes come in the form of two new questions on contractor ownership status. The new questions were recently added to the Federal Acquisition Regulations (FAR) in subpart 4.18. The same FAR section that describes the purpose and function of contractor CAGE codes. The two new questions asked by SAM wish to determine whether a business can be considered an immediate owner and/or a high-level owner.
The new questions are prompted in the SAM registration after the CAGE code verification process. Businesses can reference the FAR 4.18 to read about how businesses will be affected if these alterations are not made to their existing account in SAM. However, US Federal Contractor Registration has been making the required changes to all Verified Vendor accounts since this past October. Due to the recent SAM registration changes and new SCR Requirements (FAR Subpart 4.17), contractors have been scrabbling for guidance on the new required SAM alterations. Businesses can call the Contractor Hotline at 1(877) 252-2700 Ext 1 to speak with an Acquisition Specialist that will provide assistance on the new FAR 4.18 amendments.
Businesses that are currently registered in SAM and require assistance with their new FAR 4.18 modifications can visit https://www.uscontractorregistration.com/ to begin the online registration or call Johnathan Maness at 877-252-2700 Ext 739.
Business new to the Federal Contracting environment please consider the Simplified Acquisition Program which allows for unlimited updates to SAM and meets the qualifications necessary under the simplified acquisition procedures of FAR 13. Mr. Peter Lanore is currently working to qualify vendors for this new program at 877-252-2700 Ext 751.