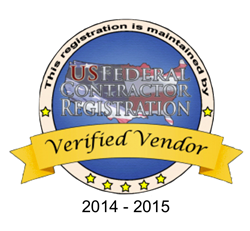 Washington D.C. (PRWEB) November 17, 2014
US Federal Contractor Registration is reporting a Request for Proposal (RFQ) called "Lodging" posted on November 11, 2014 to FedBizOpps (FBO). The Lodging solicitation is a Total Small Business contract set in Charlottesville, Virginia. The United States Office of Personnel Management is looking for properly registered government contractors with the North American Industry Classification System (NAICS) codes 721 - Accommodation and 721110 - Hotels (expect Casino Hotels) and Motels to response to this RFQ before the listed response date on November 18, 2014. Businesses are also expected to be registered in System for Award Management (SAM) prior to responding to the RFQ. As stated in the Combined Synopsis of the solicitation on FBO, "Vendors not registered in System for Award Management at the time the requirement is anticipated to be awarded will not be considered." Once a business is considered for the solicitation on the Interested Vendors List, the Office of Personnel Management will perform an on-site inspection of the offered facility.
Below is a copy of the Lodging RFQ and Document Submission Checklist as posted by Contracting Officer Bonnie E. Boston:
Lodging
Solicitation Number: OPM2615Q0006
Agency: Office of Personnel Management
Office: Facilities, Security and Contracting
This is a combined synopsis/solicitation for a commercial service prepared in accordance with Federal Acquisition Regulation (FAR) Subpart 12.102 (g) and with the format in Subpart 12.6, as supplemented with additional information included in this notice. This announcement constitutes the only solicitation; Quotations are being requested and a written solicitation will not be issued.
The Solicitation number is OPM2615Q0006 and is issued as a Request for Quotations (RFQ). This solicitation document incorporates all mandatory commercial item provisions and clauses that are in effect through Federal Acquisition Circular (FAC) 2005-74 dated November 1, 2014, 2014.
The North American Industrial Classification System (NAICS) code is 721110, and the small business size standard is $30 million. This is a small business set-aside. The United States Office of Personnel Management (OPM) is soliciting a lodging facility in the Charlottesville, VA area to house participants attending our training program. The contractor shall provide lodging accommodations IAW the Statement of Objectives (detailed below). Note: Lodging, food and beverage services cannot exceed the federal daily per diem rates.
Only e-mailed requests for additional information will be accepted at bonnie.boston@opm.gov through 12:00 PM Eastern Standard Time (EST), November 18, 2014. Offerors are invited to submit their quotations in response to this notice by 12:00 PM (EST), November 19, 2014. Quotations submitted in response to this notice shall include the solicitation number in the subject line and be signed, dated and submitted via email to bonnie.boston@opm.gov.
Businesses that are new to the Federal Marketplace should call Justin Jones to go over new vendor registration qualifications at 1(877) 252-2700 Ext 757. Justin will perform a Federal Marketplace Evaluation, which will determine if a business qualifies for the Simplified Acquisition Program. Each Federal Marketplace Evaluation utilizes the Federal Procurement Data System (FPDS), FebBizOpps (FBO), USASpending.gov, and Dynamic Small Business Search (DSBS) to evaluate a business's chances at winning government contacts. This program allows new vendors to compete under the new contracting rules for no bid contracting as well as network with purchasing officers across the nation.