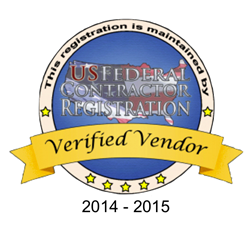 Washington D.C. (PRWEB) November 26, 2014
US Federal Contractor Registration is proud to announce that Verified Vendor EBS Security Inc. has been approved as a certified 8(a) Program participant as of October 2014. After waiting a couple months for the Small Business Administration (SBA) to process the paperwork. EBS Security Inc. was finally officially approved as a member of the 8(a) Business Program thanks to US Federal Contractor Registration and the registration assistance of Director of Case Management Jessica Summers. EBS Security Inc. is forecasted to be dominant 8(a) Federal Contractor competing for contracts in Armed and Unarmed Security, Body Guard Services, and Private Investigation Services.
Prior to the actual registration process, EBS Security Inc spoke with Acquisition Specialist Peter Lanore and conducted a Federal Marketplace Evaluation. One of the many stages of the Federal Marketplace Evaluation is discovering if a business qualifies for any federal set-aside programs. After discussing their options at full length, Peter soon discovered that EBS Security Inc would make a great candidate for the 8(a) Business Program. After assessing their business model, it was determined EBS Security Inc. would have a great chance at becoming approved for the 8(a) Program. Peter reviewed EBS Security Inc's federal profile as a small, socially and economically disadvantaged business and came to the conclusion that the 8(a) Program would increase their chances at winning government contracts in the federal marketplace.
Benefits of the 8a Program
The 8(a) Business Development Program was created to help small disadvantaged businesses win federal government contracts. A business must be socially and economically disadvantaged in order to apply for this particular federal set-aside program. The 8(a) Program lasts for 9 years once a business has been certified, during which they are able to compete for eligible set-aside contracting opportunities. The benefits of the 8(a) Program are sole source selected contracts that have a contract ceiling of $6.5 million for manufacturing and $4 million for regular goods and services. Being a part of the 8(a) Program allows businesses to team up with other 8(a) participating businesses to work on larger prime contracts and awards that would normally be above the ceiling limit of normal 8(a) contracts.
About EBS Security Inc.
EBS Security is a woman-owned, minority-owned and 8a Program accredited business based out of Jacksonville, FL that provides security guard services, body guard services, private investigation service and emergency services to federal agencies, business and individual customers across the country.
Some of the security services they provide include: government, commercial, medical facilities, colleges/universities, real estate, gated communities, retail, mobile, control room monitoring, construction and fire watches, 24-hour patrol monitoring, armed & unarmed security officers and customer/employee theft. Since 2002, EBS Security Inc. has been ensuring the security of North Floridians and their valuables. They provide outstanding service have earned state-wide recognition, awards and words of praise in the local community.
EBS Security Inc. Federal Registration Information
DUNS: 789464836
CAGE: 6SLC9
Active in SAM; Registration valid until 09/03/2015
Small Business
Women Owned Business
Black American Owned
Minority Owned Business
SBA Certified 8(a) Program Participant
NAICS codes Selected: 541611, 561210, 561612, 561990, 812930
Contracting officers looking to hire EBS Security for available work please call Printella Bankhead at (904) 766-8330 or visit their website at http://ebssecurity.com/.
Businesses that would like to learn how to become a certificated 8a Program business can call Peter Lanore at (877) 252-2700 Ext 751. Vendors who wish to learn more about the 8(a) Program can download the free 8(a) Program Check List at GovernmentContractingTips.com.