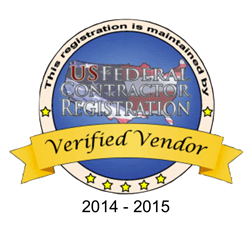 Washington D.C. (PRWEB) December 03, 2014
Promark Corporation is a Minority-owned and Asian-Pacific American owned business that has been a Verified Vendor with US Federal Contractor Registration since July 2013. After conducting a Federal Marketplace Evaluation with US Federal Contractor Registration Acquisition Specialist Peter Lanore, Promark Corporation decided to enrolled into a Simplified Acquisition Program. Since their enrollment, Promark Corporation has been awarded 2 government contracts totaling $232,592.
The Simplified Acquisition Program is designed to help properly register businesses like Promark Corporation to compete in the no bid and federal set aside marketplace. This stipulation mandated in the Federal Acquisition Regulation allow procurement officers a more relaxed approach when documenting their government contracting data and awarding their available solicitations. All contracts under the $150,000 purchasing threshold can be awarded through the Simplified Acquisition Program eliminated much of the paperwork and time necessary with sealed bid contracts.
Below is a copy of the Federal Acquisition Service contract with Promark Corporation, as documented in the Federal Procurement Data System (FPDS) in September 2013:
Vendor Name: Promark Corporation
Contracting Agency: Federal Acquisition Service
Date Signed: September 17, 2013
Action Obligation: $212,592
Contracting Office: NAVSUP FLT LOG CTR PEARL HARBOR
NAICS (Code): PUMP AND PUMPING EQUIPMENT MANUFACTURING ( 333911 )
PSC (Code): POWER AND HAND PUMPS ( 4320 )
Vendor City: Kapolei
Vendor DUNS: 103900304
Vendor State: HI
Vendor Zip: 967072009
About Promark Corporation
Promark Corporation represents product lines in the US for their Water and wastewater and process equipment. Promark Corporation serves customers in Hawaii, Guam and the Philippines. We choose from a wide variety of solutions for water and waste-water and process applications from the list of manufacturers we represent for your processing needs. Services also include: wastewater treatment, aeration equipment, eco aeration, customized turnkey solutions by application or technology, dewatering, grit removal, screening, screw pumps and analytical instrumentation and many other water control products and systems. Promark Corporation's government-formatted website can be viewed at http://www.promarkcorpgov.com/.
Promark Corporation's Vendor Profile
DUNS: 103900304
CAGE: 0AZJ0
Active in SAM; Registration valid until 06/12/2015
Asian-Pacific American Owned
Minority Owned Small Business
NAICS Codes selected:
237110 - WATER AND SEWER LINE AND RELATED STRUCTURES CONSTRUCTION
238220 - PLUMBING, HEATING, AND AIR-CONDITIONING CONTRACTORS
423490 - OTHER PROFESSIONAL EQUIPMENT AND SUPPLIES MERCHANT WHOLESALERS
423720 - PLUMBING AND HEATING EQUIPMENT AND SUPPLIES MERCHANT WHOLESALERS
541620 - ENVIRONMENTAL CONSULTING SERVICES
562212 - SOLID WASTE LANDFILL
562213 - SOLID WASTE COMBUSTORS AND INCINERATORS
562991 - SEPTIC TANK AND RELATED SERVICES
562998 - ALL OTHER MISCELLANEOUS WASTE MANAGEMENT SERVICES
Procurement Officers and prime vendors interested in contacting Promark Corporation (located in Kapolei,HI) for potential contracting projects can call Heidie Leonor directly at (808) 488-0599 or email her atpromarkcorp(at)msn(dot)com.
Businesses that would like to learn more about the Simplified Acquisition Program can call Peter Lanore at (877) 252-2700 Ext 751. Peter will conduct a free Federal Marketplace Evaluation for every interested vendor looking to find available contracts and discover new opportunities in the federal sector.