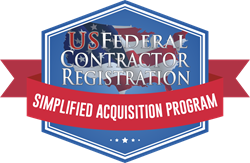 Washington D.C. (PRWEB) December 08, 2014
Otto Environmental has been a Verified Vendor with US Federal Contractor Registration since June 2013. Otto Environmental started working with Acquisition Specialist Peter Lanore to find a federal brand awareness campaign that would best fit their business model. Shortly after conducting a Federal Marketplace Evaluation, it was decided that enrolling into the Simplified Acquisition Program would be the best marketing decision for Otto Environmental. The Simplified Acquisition Program provides a business with a government registration, federal small business database profiles, lists of government buyers and prime vendors, a government-formatted website and a customized government business plan.
Otto Environmental has currently won a total 6 government contracts for a total of $46,266 thanks to the Simplified Acquisition Program and the guidance of Peter Lanore. Some of the agencies that have awarded them government contracts include: the Animal and Plant Health Inspection Service, Smithsonian Institution, National Zoological Park, and National Institutes of Health.
Below is a contract awarded to Otto Environmental by the Animal and Plant Health Inspection Service, as posted to the Federal Procurement Data Base (FPDS):
Vendor Name: Otto Environmental
Contracting Agency: Animal and Plant Health Inspection Service
Date Signed: September 16, 2014
Action Obligation: $12,928
Contracting Office: USDA APHIS MRPBS
NAICS (Code): All Other Miscellaneous Manufacturing (339999)
PSC (Code): Plastics Fabricated Materials (9330)
Vendor City: Milwaukee
Vendor DUNS: 960789279
Vendor State: WI
Vendor ZIP: 532244205
About Otto Environmental
Otto Environmental supplies all products related to animal care and research while specializing in enrichment and custom designs. Whether you are an animal owner, zookeeper, veterinarian, or researcher you will find the best and widest array of items at Otto Environmental. They are currently celebrating their 18th year online catering to animal enrichment and equipment needs. Animal owners, zookeepers, veterinarians, or researchers will find the best, and widest array of items in one place, at there online store.
Otto Environmental is located in Milwaukee, WI, and offers animal equipment and products including exotic animal enrichment, laboratory equipment, diagnostic equipment, primate caging, livestock pens, animal accessories, material handling and more. Otto Environmental is dedicated to bringing the widest online selection of products for animal care professionals, with equipment to make someone else's animal involved job easier, and toys/treats to enrich the lives of the animals. They are best known for their unique products, service, prices and their ability to design and manufacture specialty products.
Otto Environmental Federal Registration Information
DUNS: 960789279
CAGE: 3TKV2
Active in SAM; Registration valid until 05/28/2015
Small Business
North American Industry Classification System (NAICS) codes:
339999 - All Other Miscellaneous Manufacturing
Federally Formatted Website: http://www.ottoenvironmentalgov.com/
Purchasing officers and prime vendors can contact Jeff Otto, President of Otto Environmental at (414) 358-1001 or by email at jeff(at)ottoenvironmental(dot)com.
Businesses that would like to learn more about the Simplified Acquisition Program can call Peter Lanore at (877) 252-2700 Ext 751. Watch the online video or read in full detail about enrollment process for the Simplified Acquisition Program at http://www.simplifiedacquisitionprogram.org/.