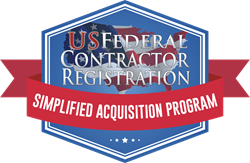 Washington D.C. (PRWEB) December 12, 2014
CAMF Inc (Miami, FL) is a Woman-Owned Small Business government contractor that has been a Verified Vendor with US Federal Contractor Registration since January 2014. After conducting a Federal Marketplace Evaluation with US Federal Contractor Registration Acquisition Specialist Rod Johnson, CAMF Inc decided to enroll into a Simplified Acquisition Program. Since their enrollment, CAMF Inc has been awarded 79 government contracts totaling $394,437.
The Simplified Acquisition Program is designed to help properly registered businesses like CAMF Inc compete in the no bid and federal set aside marketplace. This stipulation mandated in the Federal Acquisition Regulation allows procurement officers a more relaxed approach when documenting their government contracting data, and awarding their available solicitations. All contracts under the $150,000 purchasing threshold can be awarded through the Simplified Acquisition Program eliminating much of the paperwork and time necessary with sealed bid contracts. Businesses can also win micro-purchases utilizing the program. According to the U.S. Small Business Administration (SBA), micro-purchases make up 70% of all government purchases.
Below is a copy of the Federal Prison System contract with CAMF Inc, as documented in the Federal Procurement Data System (FPDS) in June 2014:
Vendor Name: CAMF, INC.
Contracting Agency: Federal Prison System
Date Signed: June 18, 2014
Action Obligation: $31,930
Contracting Office: Victorville, USP
NAICS (Code): Seafood Product Preparation and Packaging (311710)
PSC (Code): Meat, Poultry, and Fish (8905)
Vendor City: Miami
Vendor DUNS: 023905928
Vendor State: FL
Vendor ZIP: 331291222
About CAMF Inc (Miami, FL)
CAMF Inc's main priority is to provide customers with inexpensive, good quality products and excellent customer satisfaction. They specialize in value added seafood and poultry as well as appetizers and French fries. They also sell meat products, fillets and dairy products. CAMF, Inc. is an established supplier to a vast array of markets, including retail, foodservice, and government entities. They also specialize in the delivery of frozen food products, specifically fish, poultry, beef and appetizers.
CAMF Inc's mission: Provide our nationwide customers' with good quality products at an affordable price. Their customers' satisfaction and success are crucial aspects to their business growth. They believe in fulfilling customers' needs and striving to build strong, ongoing relationships with all of their clients. CAMF Inc's central focus is on distributing affordable frozen food products. Their top sellers include a variety of value added seafood and poultry products (nuggets, tenders, patties, and filets), potato products, all French fries, mozzarella sticks, onion rings, frozen appetizers in general, dairy products (specifically cheeses).
CAMF Inc Vendor Profile
DUNS: 023905928
CAGE: 71N16
Active in SAM; Registration valid until 2/11/15
Woman Owned Small Business
North American Industry Classification System (NAICS) codes:
112120 - Dairy Cattle ans Milk Production
311411 - Frozen Fruit, Juice, and Vegetable Manufacturing
311412 - Frozen Speciality Food Manufacturing
311421 - Fruit and Vegetable Canning
311513 - Cheese Manufacturing
311520 - Ice Cream and Frozen Dessert Manufacturing
311612 - Meat Processed from Carcasses
311919 - Other Snack Food Manufacturing
311991 - Perishable Prepared Food Manufacturing
311999 - All Other Miscellaneous Food Manufacturing
424420 - Packaged Frozen Food Merchant Wholesalers
424460 - Fish and Seafood Merchant Wholesalers
424470 - Meat and Meat Product Merchant Wholesalers
Procurement officers or prime vendors interested in contacting CAMF Inc about purchasing their goods/services can reach out to Christina Fox at (305) 979-3319 or by email at camfinc(at)gmail(dot)com.
Businesses that would like to enroll into the Simplified Acquisition Program or conduct a free Federal Marketplace Evaluation during the remaining weeks of December 2014, can contact Acquisition Specialist Rod Johnson at (877) 252-2700 Ext 708.