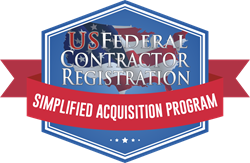 Washington D.C. (PRWEB) December 16, 2014
MinnPar (Mounds View, MN) has been a Verified Vendor with US Federal Contractor Registration since February 2014. After speaking with Acquisition Specialist Rod Johnson and discussing available opportunities for their business, MinnPar decided to enroll their business into the Simplified Acquisition Program. The Simplified Acquisition Program helps businesses target procurement officers that have a record of buying their businesses types of goods or services. It gives contractors the ability to develop real connections with government agencies and win simplified acquisition contracts set-aside by the Federal government for small businesses.
MinnPar, since the completion of their government-formatted website and initial enrollment in the Simplified Acquisition Program has won three government contracts grossing $45,206 in federal revenue. This is all thanks the Simplified Acquisition Program, and the guidance of Rod Johnson. MinnPar was able to target available simplified acquisition contracts that were not posted to federal bid boards and only available exclusively through direct contact with government buyers.
Simplified acquisition contracts range between $2,500 and $150,000, and do not have to be recorded in the Federal Awardee Performance and Integrity Information System because of their size. Businesses that proactively reach out to procurement officers in an effort to win simplified acquisition contracts have a better chance at winning multiple contracts at once, an example would be through a Blanket Purchase Agreement. All vendors must be registered in System for Award Management (SAM) prior to bidding on contracts and reaching out to government buyers.
Below is a government contract awarded by the Department of the Navy to MinnPar as posted to the Federal Procurement Data System (FPDS):
Vendor Name: MinnPar LLC
Contracting Agency: Department of the Navy
Action Obligation: $30,315
Contracting Office: NAVSUP WEAPON SYSTEMS SUPPORT
NAICS (Code): MOTOR AND GENERATOR MANUFACTURING ( 335312 )
PSC (Code): MOTORS, ELECTRICAL ( 6105 )
Vendor City: Saint Paul
Vendor DUNS: 195128905
Vendor State: MN
Vendor ZIP: 55112
About MinnPar
MinnPar has been serving the heavy equipment industries for 30 years beginning in 1982. They have pioneered the concept of providing parts for classic equipment, and remain dedicated to it. They are an industry leader in providing original OEM parts for a large number of well-known brands around the world. MinnPar's catalog of more than 2 million parts spans decades of equipment models that are no longer being manufactured. Not only do they own most of the blueprints, drawings, and designs to supply the parts agencies need, but even more importantly, they make sure that agencies/businesses get the technical advice and support that goes along with the complex machinery they own. Their technical and customer support staff has many years of expertise serving their global customers.
MinnPar has the same dedication to service, quality, and reliability as the original manufacturer, long after production has ceased. They are able to do this by working closely with the original manufacturer with a transition that includes their standards of service and a close long-term relationship with their manufacturers and vendors. MinnPar also serves the newer machine market with OEM and quality replacement parts.
MinnPar Vendor Profile
DUNS: 195128905
CAGE: 0MKW7
Active in SAM; Registration valid until 2/13/2015
Small Business
North American Industry Classification System (NAICS) codes:
238910 - Site Preparation Contractors
326220 - Rubber and Plastics Hoses and Belting Manufacturing
332912 - Fluid Power Valve and Hose Fitting Manufacturing
333120 - Construction Machinery Manufacturing
333612 - Speed Changer, Industrial High-Speed Drive, and Gear Manufacturing
333613 - Mechanical Power Transmission Equipment Manufacturing
334513 - Instruments and Related Products Manufacturing for Measuring, Displaying, and Controlling Industrial Process Variables
335314 - Relay and Industrial Control Manufacturing
336310 - Motor Vehicle Gasoline Engine and Engine Parts Manufacturing
336320 - Motor Vehicle Electrical and Electronic Equipment Manufacturing
336330 - Motor Vehicle Steering and Suspension
Components (expect Spring) Manufacturing
336340 - Motor Vehicle Brake System Manufacturing
336350 - Motor Vehicle Transmission and Power Train Parts Manufacturing
336390 - Other Motor Vehicle Parts Manufacturing
336412 - Aircraft Engine and Engine Parts
339999 - All Other Miscellaneous Manufacturing
423120 - Motor Vehicle Supplies and New Parts Merchant Wholesalers
432130 - Tire and Tube Merchant Wholesalers
423430 - Computer and Computer Peripheral Equipment and Software Merchant Wholesalers
423610 - Electrical Apparatus and Equipment, Wiring, Supplies, and Related Equipment Merchant Wholesalers
423690 - Other Electronic Parts and Equipment Merchant Wholesalers
423710 - Hardware Merchant Wholesalers
423810 - Construction and Mining (Expect Oil Well) Machinery and Equipment Merchant Wholesalers
423830 - Industrial Machinery and Equipment Merchant Wholesalers
423840 - Industrial Supplies Merchant Wholesalers
454390 - Other Direct Selling Establishments
811310 - Commercial and Industrial Machinery and Equipment (Expect Automotive and Electronic) Repair and Maintenance
Below is the link to MinnPar's Federally Formatted Website.
http://www.minnpargov.com/
Purchasing officers and prime vendors can contact John Gilberson of MinnPar at (612) 379-0606 or by email at jgilbertson(at)minnpar(dot)com.
Businesses that would like to learn more about the Simplified Acquisition Program and government registration can call Rod Johnson at (877) 252-2700 Ext 708. More detailed information about the Simplified Acquisition Program can be found at http://www.simplifiedacquisitionprogram.org/.