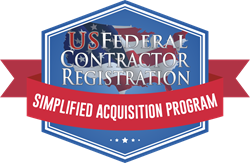 Washington D.C. (PRWEB) December 19, 2014
The Stage Depot (Ladera Ranch, CA) has been a Verified Vendor with US Federal Contractor Registration since January 2014. The Stage Depot immediately began working with Acquisition Specialist Peter Lanore to a find government marketing campaign that would fit their business model and build brand awareness in the federal sector. Shortly after being put through the US Federal Contractor Registration qualification process, it was decided that enrolling into the Simplified Acquisition Program would be the best marketing decision for their business. The Simplified Acquisition Program provides a business with a federal registration, federal small business database profiles, lists of government buyers and prime vendors, a government-formatted website, and a customized government business plan.
The Stage Depot has currently won three government contracts for a total of $18,075, thanks to the Simplified Acquisition Program and the guidance of Peter Lanore. Peter has collectively helped win over $700 million in government contracts for his current clients. The Stage Depot worked with Peter to create a customized marketing strategy that will be used when reaching out to government buyers. Strategies such as developing an elevator pitch and learning how to write a government bid proposal are two key components in government contracting. Some of the agencies that have awarded The Stage Depot government contracts from the outreach of the Simplified Acquisition Program include: the National Park Service, Bureau of Land Management, Forest Service, and the Department of the Navy.
Below is a contract awarded to The Stage Depot by the National Park Service, as posted to the Federal Procurement Data System (FPDS):
Vendor Name: OCML, INC.
Contracting Agency: NATIONAL PARK SERVICE
Date Signed: April 01, 2014
Action Obligation: $5,759.86
Contracting Office: PWR GOGA MABO
NAICS (Code): INSTITUTIONAL FURNITURE MANUFACTURING (337127)
PSC (Code): SCAFFOLDING EQUIPMENT AND CONCRETE FORMS (5440)
Vendor City: LADERA RANCH
Vendor DUNS: 016880062
Vendor State: CA
Vendor ZIP: 926940613
About The Stage Depot (Ladera Ranch, CA)
The Stage Depot is America's portable staging authority. Stage Depot helps businesses choose the right stage system for each event based on the client's needs and budget. Their staging experts are there to educate business owners about the best stage choices available. Every stage will service and fit different functions. The Stage Depot carries all the major brands of staging. Whether a business is looking for a portable stage, mobile stage with wheels, a modular stage, an aluminum stage, a height-adjustable stage, or an outdoor stage, The Stage Depot will have it in stock. They also carry all the accessories a business could possibly need for a stage such as stage guardrails, stage ramps, stage skirts, stage steps, backdrops, Truss and Roof systems, and transportation/storage systems. The Stage Depot also has years of experience assisting schools, government organizations, and the military.
The Stage Depot Federal Registration Information:
DUNS: 016880062
CAGE: 5XG61
Active in SAM; Registration valid until 05/28/2015
Small Business
North American Industry Classification System (NAICS) codes:
337127 - Institutional Furniture Manufacturing
Federally Formatted Website: http://www.thestagedepotgov.com/
Purchasing officers and prime vendors can contact John Smith, President of OCML Inc/The Stage Depot at (877) 884-3426 or by email at orders(at)thestagedepot(dot)com.
Businesses that would like to learn more about enrolling into the Simplified Acquisition Program can call Peter Lanore at (877) 252-2700 Ext 751. To read in full detail about the enrollment process for the Simplified Acquisition Program visit http://www.simplifiedacquisitionprogram.org/.