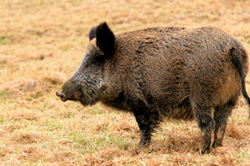 Washington D.C. (PRWEB) January 05, 2015
Recently, US Federal Contractor Registration, the world's largest third party registration firm has been flooded with phone calls about businesses looking for government contracts on the hunting and trapping of feral hogs in America. Government agencies like the United States Department of Agriculture (USDA) and United States Fish and Wildlife Service all have sole source (no bid) contracts that are currently available in a number of different locations across America. These types of contracts are created by government buyers and tend to not always be posted to government bid boards like FedBizOpps (FBO). With the change in weather, agencies have been discovering emerging issues with feral hogs and are looking to hire registered government contractors to resolve these issues. Contractors must have the North American Industry Classification System (NAICS) code 114210 - Hunting and Trapping in order to bid on the majority of the feral hog control contracts, and be actively registered in System for Award Management (SAM).
Procurement officers are encouraging contractors to become registered for government contracting and marketing their business to government agencies. Steven Butler is a Contracting Officer for the United States Forest Service at the Savannah River Office in Aiken, South Carolina. Butler was a contracting officer with the Department of Defense for 28 years and was transferred two years ago to lend his expertise to the Forest Service. In a conversation with Max Timko, Director of Marketing of US Federal Contractor Registration he talked about ways contractors can reach out to government buyers like himself. Butler brought up key factors in government contracting such as ways to contact government buyers, when to begin marketing campaigns, and how important it is to network. Butler stated, "Businesses need to put their best foot forward when becoming involved in government contracting. Being prepared to win a government contract is very important. It takes a lot of time and effort on our part to put out a government contract on a bid board. Businesses that reach out to us at the right time have a chance at winning simplified acquisition contracts and sole source contracting opportunities. Some contracting officers may not have a contract available at the time, but could have one down the road. That is why it is important to network with people like myself and make sure I remember your business. Networking through email, by phone or even attending small business fairs are some great ways to make connections to win contracts. It is really a trial and error situation. You must put the work in to win these contracts. Businesses that have a Capability Statement and great Past Performance will make our choice easier. Even once we hire a contractor we use IDIQs to make sure a standard is maintained."
Businesses that would like to begin marketing to government agencies and inquire about available sole source and simplified acquisition contracts can enroll in the Simplified Acquisition Program. The Simplified Acquisition Program makes sure businesses are properly registered in System for Award Management (SAM), and are given a number of different resources to begin networking to win contracts. Some of these resources include profiles in government small business databases, lists of government buyers and prime vendors to contact, a government-formatted website, bid notifications via email, and yearlong contract support.
Businesses interested in bidding on available contracts on FBO and reaching out to procurement officers about available opportunities must first determine if they qualify for government contracting with US Federal Contractor Registration. Once a qualification examination is complete, every business must become registered in System for Award Management (SAM). SAM is the mandatory federal database in which every business must be registered in to work for the United States Federal Government. US Federal Contractor Registration has dedicated Case Managers that have completed over 65,000 government registrations. Some of these registrations include Fortune 500 companies, colleges, and even government agencies.
Contractors can call Acquisition Specialist Robert Renzella at (877) 252-2700 Ext 757 to discuss enrollment into the Simplified Acquisition Program or determine if their business qualifies for government contracting.