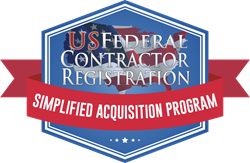 Washington D.C. (PRWEB) January 07, 2015
Altergott Forestry, LLC (Spearfish, SD) has been a Verified Vendor and enrolled in the Simplified Acquisition Program with US Federal Contractor Registration since September 2013. US Federal Contractor Registration conducted the required System for Award Management (SAM) registration for Altergott Forestry, LLC in order to become an official United States government contractor. Since their enrollment in the Simplified Acquisition Program, Altergott Forestry, LLC won three government contracts totaling $10,800. Two of the contracts were won within one month of each other by the same federal agency.
Acquisition Specialist Peter Lanore of US Federal Contractor Registration assisted Altergott Forestry, LLC with their initial government contracting qualification process. After reviewing their federal competition rate, related government spending trends, available contracts, and federal set-aside requirements, it was determined that the Simplified Acquisition Program was the best marketing campaign for their particular business model. The Simplified Acquisition Program is designed to help businesses network with government buyers, develop federal brand awareness, and win available simplified acquisition contracts.
Below is a copy of one of the government contracts awarded to Altergott Forestry, LLC while enrolled in the Simplified Acquisition Program. Some of the federal agencies that have awarded Altergott Forestry, LLC government contracts include the National Park Service and the U.S. Fish and Wildlife Service. The following solicitation was researched and documented from the Federal Procurement Data System (FPDS):
Vendor Name: ALTERGOTT FORESTRY, LLC
Contracting Agency: NATIONAL PARK SERVICE
Date Signed: March 21, 2014
Action Obligation: $6,500
Contracting Office: IMR NORTHERN ROCKIES MABO
NAICS (Code): SUPPORT ACTIVITIES FOR FORESTRY ( 115310 )
PSC (Code): NATURAL RESOURCES/CONSERVATION- TREE THINNING ( F014 )
Vendor City: SPEARFISH
Vendor DUNS: 021292795
Vendor State: SD
Vendor ZIP: 577836019
About Altergott Forestry, LLC:
Altergott Forestry is a private professional forestry management company that offers complete property services to the Black Hills area. Since 2007, they have worked as a professional timber faller and logging contractor for the Hills. Altergott Forestry, LLC specializes in complete restoration projects such as vegetation management of landscape-based forestry. They also offer Firewise programs as a Wildland Urban Interface contractor where they assess property hazards in wildfire zones and mitigate the hazards. Their Land Use Enhancement includes cleanup projects, forest fuel reduction, and timber harvesting.
Altergott Forestry, LLC is an ethical, sustainable forestry serving Western South Dakota and Northeast Wyoming (Black Hills Area). They are looking for private/regional, commercial, and government (any size) contracts. The owner of About Altergott Forestry, LLC is also a volunteer firefighter for the community of Spearfish, SD.
Altergott Forestry, LLC Federal Profile Information
DUNS: 021292795
CAGE: 6NLK6
Active in SAM; Registration valid until 09/05/2015
Small Business
North American Industry Classification System (NAICS) codes
113110 - Timber Tract Operations
113310 - Logging
115310 - Support Activities for Forestry
238910 - Site Preparation Contractors
561730 - Landscaping Services
Federally Formatted Website: http://www.altergottforestry.com/
Prime vendors and Procurement Officers interested in contacting Altergott Forestry, LLC for contracting opportunities can contact Adam Altergott at (605) 639-0238 or by email at altergottforestry(at)gmail(dot)com.
Businesses can also call Acquisition Specialist Peter Lanore at 1(877) 252-2700 Ext 751 to qualify for government contracting or begin the enrollment process in the Simplified Acquisition Program. Interested vendors can read more about the Simplified Acquisition Program at http://www.simplifiedacquisitionprogram.org/.