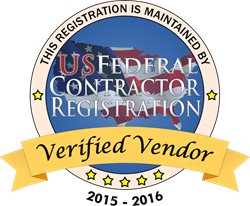 Washington D.C. (PRWEB) January 12, 2015
Eljay Oil Co.Inc. (Spokane, WA) has been a Verified Vendor with US Federal Contractor Registration since July 2013. After conducting the required qualifying process, Acquisition Specialist Peter Lanore decided to develop a customized marketing campaign for Eljay Oil Co. Inc. This marketing campaign would be used to network with government buyers to win available government contracts. The qualifying process will discover available contracting opportunities, view previously awarded contracts, find local/national competitors in an industry, and find spending growth among federal agencies. Since implementing a government marketing program with US Federal Contractor Registration, Eljay Oil Co. Inc. has been awarded 3 government contracts totaling $22,904.
US Federal Contractor Registration's government marketing programs are used to establish a business in the federal marketplace. The key to government marketing is advertising your business in the federal sector and making sure government procurement officers notice. Procurement officers are the federal buyers who have the ability to award seal bid contracts (as seen on federal bid boards like FedBizOpps), or even simplified acquisition contracts, and micro-purchases. Businesses that create business relationships with government buyers and market their business directly to the right individuals have a better chance at winning these types of contracts. Simplified Acquisition contracts and micro-purchases require less federal scrutiny and allow procurement officers to use their personal judgement to award an available solicitation.
Below is a copy of the Department of the Navy contract with Eljay Oil Co. Inc., as documented in the Federal Procurement Data System (FPDS):
Vendor Name: ELJAY OIL COMPANY, INC.
Contracting Agency: DEPT OF THE ARMY
Date Signed: August 20, 2014
Action Obligation: $12,096
Contracting Office: W071 ENDIST WALLA WALLA
NAICS (Code): PETROLEUM LUBRICATING OIL AND GREASE MANUFACTURING ( 324191 )
PSC (Code): OILS AND GREASES: CUTTING, LUBRICATING, AND HYDRAULIC ( 9150 )
Vendor City: SPOKANE
Vendor DUNS: 081493918
About Eljay Oil Co. Inc.
Eljay Oil Co. Inc. began over 50 years ago as a family owned and operated business. By building on their commitment of providing the highest in customer service and quality petroleum products, they have grown from those early roots into the Chevron 1st Source Elite Lubricant Marketer. They take great pride in offering a full array of petroleum products and services throughout the in-land northwest.
Centrally located in Spokane, Washington, Eljay Oil Co. Inc. is the Single Supply Source for the finest in quality lubricants and fuels, as well as the premier CFN cardlock fueling participant.
Eljay Oil Co. Inc. understands that customers have a choice where they purchase their petroleum products. Eljay Oil Co. Inc. recognizes that they are a partner with their customers, and they are always providing the highest quality products and services at a fair price. Their highest desire is to gain total customer satisfaction, confidence, and enthusiasm.
Eljay Oil Co. Inc. Vendor Profile
DUNS: 081493918
CAGE: 3X222
Active in SAM; Registration valid until 10/02/2015
NAICS Codes selected:
424720 - Petroleum and Petroleum Products Merchant Wholesalers (Expect Bulk Stations and Terminals)
Procurement Officers and prime vendors interested in contacting Eljay Oil Co. Inc. (located in Kapolei,HI) for potential contracting projects can call Randy Folkins directly at (509) 926-9595 or email him randy(at)eljayoil(dot)com.
Businesses that would like to learn more about government marketing programs can call Peter Lanore at (877) 252-2700 Ext 751. Peter will conduct a free Federal Marketplace Evaluation for every interested vendor looking to find available contracts and discover new opportunities in the federal marketplace.