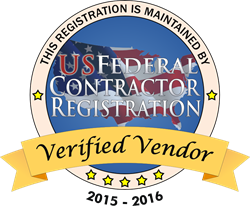 Washington D.C. (PRWEB) January 26, 2015
Verified Vendor Pinnacle Engineering, LLC has been registered with US Federal Contractor Registration since March 2013. Pinnacle Engineering, LLC specializes in a number of comprehensive engineering services, which include stormwater management, hydrological, studies & reports, site investigation, waste water treatment plant & collection systems, wetland management, and road, bridge, & tunnel design. Pinnacle Engineering, LLC understands the importance of being compliant in government contracting. After being an active government since 2009, and experiencing the migration from CCR/ORCA to System for Award Management (SAM) they know detail is everything in federal contracting.
Pinnacle Engineering, LLC understands how serious it can be when a business is not properly registered, and not prepared for federal work. Pinnacle Engineering, LLC submitted their company profile information online through the USFCR website, which was then put into the very capable hands of Acquisition Specialist Jonathan Maness. Jonathan discussed with them the SAM registration and what would be needed in order to process their company. Pinnacle Engineering, LLC was very happy with the customer service and federal contracting knowledge of Jonathan Maness. Pinnacle Engineering, LLC not only decided to renew the following year with US Federal Contractor Registration but is also in the process of enrolling into a GSAP (GSA on monthly payments with a SAP program).
Some of the advantages of the GSAP over a regular GSA Program include a monthly financing option, multiple small business marketing solutions and yearlong technical support from a US Federal Contractor Registration Case Manager. A GSA Program must be paid in full all at once and ranges in the high thousands of dollars per vendor schedule application. The GSAP breaks down the program into monthly payments and includes a Simplified Acquisition Program.
When a business decides to hire the professionals at US Federal Contractor Registration to manage their mandatory System for Award Management (SAM) registration, they are assigned a Case Manager for an entire year. Each Case Manager assists with technical assistance and the filing of a business's federal paperwork. US Federal Contractor Registration has registered over 65,000 businesses to date. Some of their clients include Google Services, Wells Fargo, Dixie, HP, Xerox, and many more. US Federal Contractor Registration's numerous media accolades leaves no question to why they are the leading third party government registration in the world.
Businesses also choose to use US Federal Contractor Registration's government marketing programs to increase the chances at winning available government contracts. Government marketing campaigns such as Simplified Acquisition Program continue to help businesses advance in the federal marketplace. Prior to enrollment into the Simplified Acquisition Program or GSAP, an Acquisition Specialist will conduct a mandatory qualification process in order to determine if a business is a good fit for government contracting. The qualification process will also discover spending trends, available federal set-asides, and find which agencies have a history of buying related products/services.
Businesses that would like to become a registered government contractor or learn more about the Simplified Acquisition and/or GSAP can speak with Acquisition Specialist Justin Jones at (877) 252-2700 Ext 757 or visit http://www.simplifiedacquisitionprogram.org/.