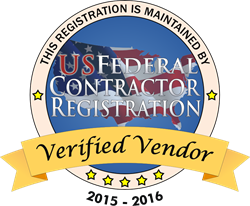 Washington D.C. (PRWEB) January 27, 2015
The United States Federal Government as of 01/26/2015 has 820 open Solicitations in Washington D.C. where they are currently seeking out properly registered government contractors. The Federal Government awarded 95,705 contracts in Washington D.C. for over 18 billion dollars in 2014 alone. Please see the below available contract released by US Federal Contractor Registration, additional Washington D.C. contracts can be found at https://www.uscontractorregistration.com.
US Federal Contractor Registration is reporting the release of a Big Data RFI in Washington D.C. posted to FedBizOpps (FBO) on January 26, 2015. The Big Data RFI has a response date of March 26, 2015 for any vendors looking to respond. Every business interested in bidding on the Big Data RFI contract must be properly registered in System for Award Management(SAM). As well as have the North American Industry Classification System codes 518210 - Data Processing, Hosting, and Related Services, and 4518 - Data Processing, Hosting and Related Services filed in their SAM account/vendor profile.
Below is a copy of the Request for Information (RFI) of the Big Data RFI as originally posted to FedBizOpps (FBO) on January 26, 2015:
Issue Date: January 26, 2015
Response Due Date: March 26, 2015, 1:00PM EST
Submit Responses Electronically to: Tabitha.Lorthridge(at)dot.gov
This is a request for information (RFI) only, and is NOT a solicitation for proposals, proposal abstracts, or quotations. This RFI notice is for information purposes only and does not obligate the government in any way. The Government will not reimburse the respondents for any costs associated with the information submitted in response to this request. The Government will treat each submission as confidential when requested by the submitter.
This RFI is not to be construed as a commitment on the part of the Government to award a contract, cooperative agreement, or grant nor does the Government intend to directly pay for any information or responses submitted as the result of this notice. Interested firms are invited to submit a response with a written statement of interest or capability and discussion of the following enumerated points:
1. Value Proposition
Including consideration of FHWA's responsibilities by virtue of Executive Order 13642 and the Office of Management and Budget (OMB) M-13-13:
a. Describe your vision of potential innovations, products, or opportunities that may become viable if FHWA releases its transportation data in a strategic location that has both analytic and
computational capabilities.
b. Describe how sharing FHWA's data could create jobs or spur the economy.
c. Provide metrics that should be considered to measure the level of impact or success from releasing this data through this partnership approach.
In addition to providing the information to respond to the above, interested firms shall also clearly identify:
a. Organization name and address, and contact information (email and telephone number, of a designated point of contact).
b. A brief description of type of business or organization.
c. Size Standard status of your business/organization under NAICS Code 518210, Data Processing, Hosting, and Related Services (size standard of $32.5 million).
E-mail attachments shall be submitted in Microsoft Word or searchable Adobe PDF and shall not exceed fifty (50) pages in length. Please do not submit marketing materials, or business proprietary information. Responses are requested by 1:00PM EST on March 26, 2015
All registered contractors that supply information technology services have the opportunity to submit their RFI to Contracting Officer Tabitha Lorthridge by email at Tabitha.Lorthridge(at)dot.gov.
Businesses that would like to learn how to submit RFIs and bid on available opportunities can call Acquisition Specialist Nicole Smith at 1(877) 252-2700 Ext 732. Vendors have been enrolling in the Simplified Acquisition Program to win available government contracts, network with procurement officers across the nation, and qualify their business for government contracting. Businesses that would like to learn more about the Simplified Acquisition Program can visit http://www.simplifiedacquisitionprogram.org/.