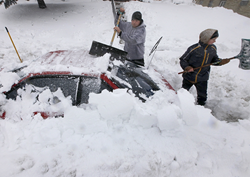 Washington D.C. (PRWEB) January 28, 2015
New York, New Jersey, New Hampshire, Massachusetts, Rhode Island, and Connecticut are all under a State of Emergency because of a massive snowstorm coming off the Atlantic Ocean. These states are expected to receive between 1 to 3 feet of snow according to the National Weather Service. More than 7,700 flights have been cancelled and will not be active until Wednesday, January 28, 2015 afternoon. The National Weather Service is also predicting hurricane force winds up to 75 mph along the coast of Massachusetts. Conditions are going to be so dangerous that all New York City and Long Island streets and highways are banned from use. All violators seen using these roadways could be fined up to $300 for breaking the law.
Coastal residents in New Jersey and Cape Cod, Massachusetts are expected to receive massive flooding and extreme beach erosion. Everyone in the Northeast region of the United States is encouraged to stay in-doors and out of harm's way. However, registered FEMA contractors are encouraged to call their local FEMA office to inquire about disaster relief. Businesses must have documented Past Performance, be a registered government contractor in System for Award Management (SAM), and have submitted an Industry Liaison Program Vendor Profile to FEMA to accept FEMA contracts.
When a natural disaster occurs, FEMA and other government procurement officers will award sole source contacts, or better known as no bid contracts to businesses that are prepared for these opportunities. These no bid contracts are awarded immediately to businesses that are on the site of the disaster. These selected contractors do not have to go through the normal sealed bidding process and can get right to work with a guaranteed contract. The Federal Emergency Management Agency (FEMA) spends approximately $1 billion every year on government contracts to registered federal contractors. Contractors must become registered in System for Award Management (SAM) prior to applying to become a FEMA contractor.
US Federal Contractor Registration has streamlined the government registration process by assigning a Case Manager and Government Acquisition Specialist to every interested vendor. Businesses that are unfamiliar with the government registration process have been contacting US Federal Contractor Registration to become registered in SAM and approved as an official FEMA contractor. Businesses can call the Contractor Hotline at (877) 252-2700 Ext 1 to qualify for government contracting and submit their business as a FEMA contractor to aid in disaster relief efforts.
Vendors who promote their FEMA contractor status through government marketing have a better chance at being awarded a contract. US Federal Contractor Registration encourages businesses to become registered and begin marketing their business to procurement officers across the nation. The Simplified Acquisition Program not only prepares businesses for the federal marketplace but aligns their business with actual government buyers that have a history of purchasing related services. The Simplified Acquisition Program will help discover available contracting opportunities, view previously awarded contracts in a specific industry, and find spending growth in specific government agencies. Every contractor will also receive a government-formatted website, a profile in Dynamic Small Business Search (DSBS), a complete Government Business Plan with direct access to Buyers and Prime Vendors, Monthly Email Bid Notifications, System for Award Management (SAM) Registration, and year-long contract support.
Does your business qualify for government contracting? Vendors can call Acquisition Specialist Justin Jones at (877) 252-2700 Ext 757 to determine if their business qualifies for government contracting and begin the enrollment process in the Simplified Acquisition Program. Vendors can visit http://www.simplifiedacquisitionprogram.org to read in-depth details on the Simplified Acquisition Program.
Businesses that would like to learn more about involvement in FEMA contracts can visit http://femacontracts.com/.